The Vincent Smith School, located in Port Washington, is the premier independent school on Long Island, dedicated to serving the needs of students with Learning Disabilities (LD), such as ADD, ADHD, LD (Dyslexia/Dyscalculia/Dysgraphia), Nonverbal LD, Auditory Processing Disorder, and Expressive/Receptive Language Disorders in grades 3-12.
At Vincent Smith School we are committed to the belief that "It's Okay to Learn Differently"
with:
Differentiated Instruction
Small, Supportive Classes
Structured Environment
College/Career Counseling
Social Skills Training
Unique Social Cognition Program
Vincent Smith School is chartered by the New York State Board of Regents as an independent, nonprofit day school. The school is accredited by the New York State Association of Independent Schools.
The Vincent Smith School admits students of any race, color, national and ethnic origin to all the rights, privileges, programs and activities generally accorded or made available to students at the School. It does not discriminate on the basis of race, color, national and ethnic origin in administration of its educational policies.
http://www.vincentsmithschool.org/our-history.asp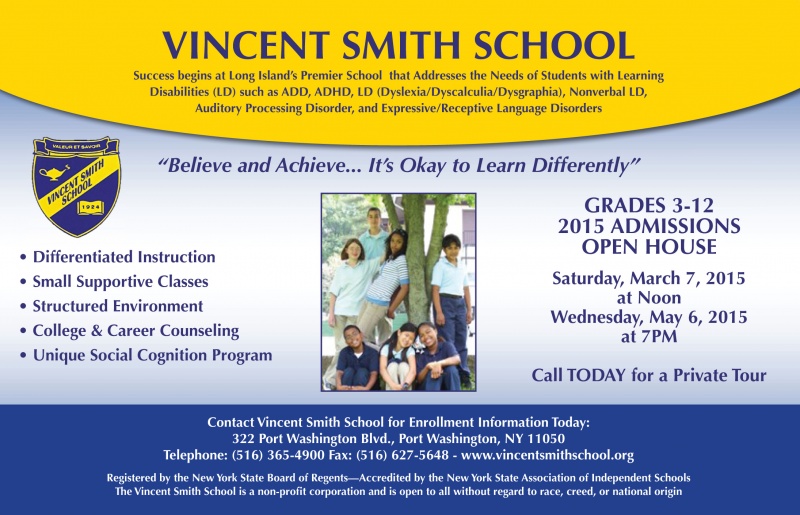 Want to learn more about this business? Send them a direct inquiry.
EDU - SPECIAL EDUCATION
The Vincent Smith School is a coeducational day school for students with learning disabilities in third-12th grades. The mission of the Vincent Smith School is dedicated to providing a small, supportive setting where we "Believe and Achieve…It is Okay to Learn Differently." Through differentiated instruction, hands–on activities, and interdisciplinary instruction, students are provided with the necessary educational, emotional, and social support necessary for success.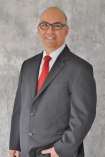 The Vincent Smith School Board of Trustees recently announced the appointment of Mr. John Baldi as the new Head of School. Mr. Baldi was formerly the Director of Finance at the Kew-Forest School, an independent school serving grades pre-Kindergarten-12 in Queens. He is currently pursuing and completing his Doctoral degree at St. John's University in Instructional Leadership. His research and dissertation involves the effect of introducing science, technology, engineering, and math (STEM) education to middle school students. The Vincent Smith School is a private day school for students with learning disabilities in grades 3-12.
Read More About Vincent Smith School
2015 Open House Dates
Looking for more information on a local camp or school? See below for our list of current, upcoming open houses in Rockland, Westchester, Brooklyn, Queens, Fairfield, Manhattan, and Long Island.
Vincent Smith School Welcomes New Director of Special Education
Vincent Smith School, a third through 12th grade school catered to those with learning disabilities, recently appointed Layla Lindau as the new director of special education.
Summer Activities in Queens
Search for the best summer activities for kids in Queens, NY. Our guide helps you choose from Queens kids classes, Queens summer camps, summer programs, activities near Queens, NY, and family excursions in the Queens and New York City area. NYMetroParents has your summer activities in Astoria, Flushing, Jamaica, Fresh Meadows, Kew Gardens, and the rest of Queens, NY.