Description
At GetSmarterOnline©, we provide a convenient online tutoring solution to parents and students in grades K-6 that is inexpensive, easy to use and delivers a high level of education to help improve students' scores in school. It is meant not only to compliment what the child learns in school, but also give them a head start on upcoming topics. The best part is, it is available in the comfort of your own home! No more driving your child to a center or waiting for the in home tutor to arrive.
Our live classroom technology makes tutoring more interactive and very easy to use. Our tutoring is affordable and the best part is, it is as simple as 1-2-3! All you have to do is select the number of hours per week for tutoring, signup and login. That's it!
Parents will always stay informed of how their child is progressing. Each classroom session is recorded and available to both students and parents. Students can view these recordings at anytime as review and parents can view the recording to see how well their child is doing. Parents will also receive a progress report from the tutor after each session by e-mail.
All of our Tutors are New York State certified. Each tutor has been trained in our program and is here to help students with any concerns they may have.
How It Works
Once your child has registered with GetSmarterOnline©, getting started is very simple. We create a classroom schedule based on your input. All your child has to do is login to his online classroom session on the scheduled date and time. Your child can login using a laptop, desktop computer, iPad or any other tablet device.
Once the student and teacher are logged in to the online session, they can communicate with each other just as if they were sitting right next to each other! They can see each other on the screen and talk to each other right in the classroom.* The session also uses the state of the art whiteboard technology which both the student and teacher can use to work on a subject. You can also share assignments or homework on the whiteboard and work on the problems together. For a demo or more information, please visit www.getsmarteronline.com and send us an e-mail at [email protected] We will setup a free one hour session using our whiteboard technology and show you how easy it is.
* A camera and microphone is required for live video feed and voice chat. If neither is available, the session can be done through text.
Services Offered:
Homework Help
Test Review
Subject Tutoring in Reading, Math, Social Studies and Science
Workshops for New York State and Citywide subject exams.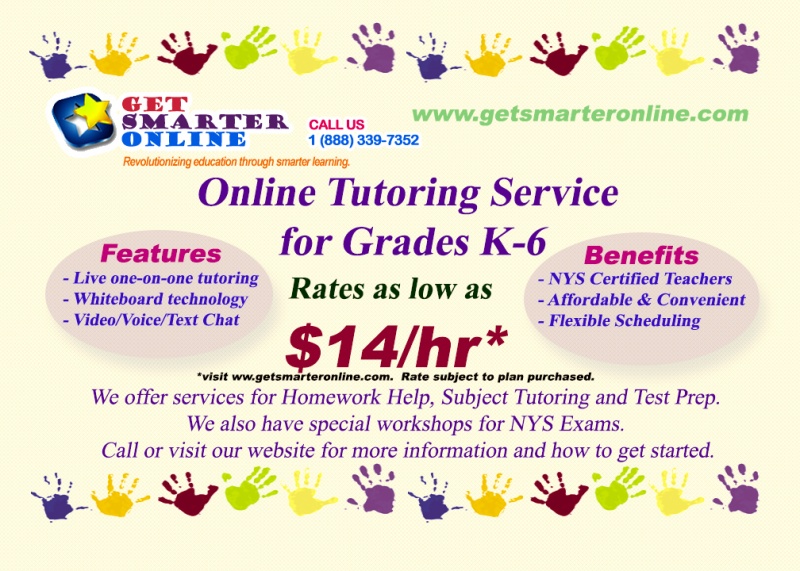 *SPECIAL PROMOTION FOR A LIMITED TIME ONLY!*
First hour is FREE when purchasing a Monthly Plan!
Free Diagnostic Test given with sign up to determine what your child's strengths and weaknesses are!
**Month of March**
We will be running a comprehensive workshop for the upcoming English Language Arts, Math, and Science State Exams which will take place in April, May, & June.
GetSmarterOnline© offers a six week workshop to help students prepare for State Wide exams. The schedules for these workshops are dependent on the timings of exams and are usually held on weekends. These will be longer and more extensive sessions and are usually in groups of up to four students. Students will be assessed on which areas they need to focus on more. There will be sample State Exams as well as offline assignments to help students prepare better. Students will be taught multiple techniques and skills to approach questions and how to best manage their time on the exam as a whole. The following provided are scheduled New York State Exams.
| | |
| --- | --- |
| April 16-18 Grades 3-8 | NYS English Language Arts |
| April 24-26 Grades 3-8 | NYS Mathematics |
| May 22-31 Grade 4 | NYS Science Performance Test |
| June 3 Grade 4 | NYS Science Written Test |
In the upcoming future, Get Smarter Online© plans to extend their services to students from 7th-12th grade. We will provide Regents Exam Prep, SAT workshops, subject tutoring, HW help/test review on all school subjects. Please visit our website for more information.
For more information, please call 1888-339-7352 or email at [email protected]