There are many good reasons for joining ICCJ. Here are some of them. But be sure to check out our video, which can be viewed by clicking here, to listen to what our congregants have to say.
Devoted energetic rabbi
Talented, engaging cantor
Full egalitarian services
Very low family membership dues
Shabbat programing for children
Personalized bar/bat mitzvah training
Festive holiday programming
Special programming for young families
Award-winning Ohr Chadash (A New Light) religious school and outstanding educational opportunities for teens
Award-winning METNY Kadima and USY youth programs
Stimulating classes and guest lectures on all aspects of Jewish life
Popular children's pool and sports program
A statement from Rabbi Robyn Fryer Bodzin:
Shalom and welcome to Israel Center of Conservative Judaism. We are a full-service Conservative egalitarian congregation serving the needs of the Jewish population in the Fresh Meadows area of Queens and the surrounding neighborhoods. We are an active congregation with a wide range of religious educational and social programs, as well as outreach services to our synagogue family, our neighbors in the community and the Jewish world at large.
But most of all we think of ourselves as a caring community, one in which we cherish the loving relationships we have formed with one another.
In particular I love Shabbat mornings when the children join me on the bima, and they love it when I hand out the chocolates at the end of services.
We welcome your membership inquiries and look forward to your active participation in our synagogue life. As your rabbi, I would cherish the opportunity to develop a personal relationship with you and help your family grow in its Jewish and spiritual life.
A Stellar Religious School
The Ohr Chadash Religious School is a joint venture of Israel Center of Conservative Judaism, Hillcrest Jewish Center and Hollis Hills Jewish Center. In May 2009, it was recognized as a "Framework for Excellence School" by the United Synagogue of Conservative Judaism. Ohr Chadash is only one of a select group of after-school religious schools in New York State to receive this prestigious award. It certifies that Ohr Chadash has met rigorous standards in areas such as professional development, curriculum design and family education. For further information, call the ICCJ office at 718-591-5353, ext. 11.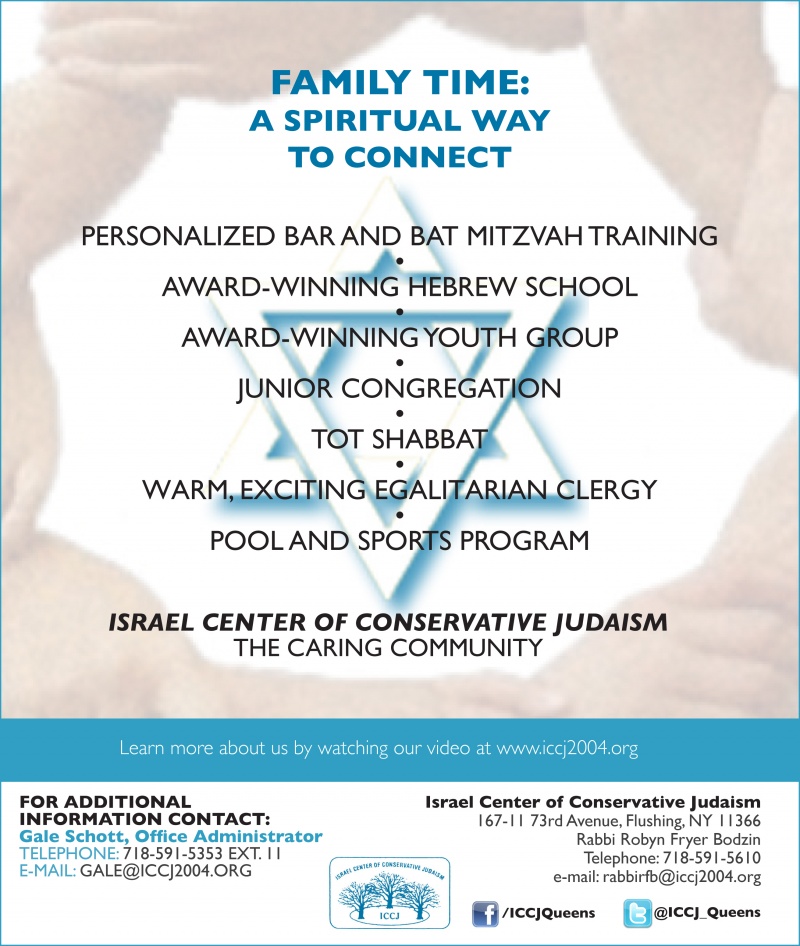 Young Family Programming

ICCJ's Young Families Committee plans programs and activities, helping to build relationships, foster Jewish learning and promote good works while having fun doing it! With events like Zumba in the Sukkah, annual Purim program and our summer bar-b-q, the committee is dedicated to the proposition that coming to synagogue doesn't have to be boring!
In the coming year, we'll be starting an intergenerational program where young and old members of the synagogue will come together to learn from each other.
Older members can teach our youngsters how to knit, garden or master a game like chess. Meanwhile, our youth can teach their elders how to navigate the internet, master a smartphone or put together a PowerPoint presentation.
Young people will also document the lives our seniors through video interviews.
Want to learn more about this business? Send them a direct inquiry.
BACK TO SCHOOL
At Israel Center of Conservative Judaism, children are a priority. We are proud to be a founding synagogue of Ohr Chadash Religious School, a United Synagogue School of Excellence that now has more than 100 enrolled students. Our H2I Youth Group is an award-winning chapter of United Synagogue Youth. ICCJ's Pool and Sports Club, with more than 300 participants, is a focal point of attracting Jewish children from all over eastern Queens. Our Young Families Committee sponsors many exciting events for children and their parents. For more information, contact Gale Schott, office administrator at 718-591-5353 x11, or email gale@iccj2004.org.