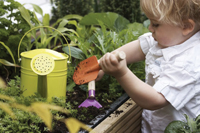 Celebrate Mother Earth
Nature lovers of all ages can find something to do this month, with Earth Day festivities both indoors and outdoors throughout the county.
Earth Day Craft
Children can stop by the Haverstraw Library's Village Branch to make a special craft for Earth Day. April 10 at 1pm. Free. 85 Main Street, Haverstraw. 845-429-3445. www.hkdpl.org.
Celebrate Earth Day
Parents can "go green" with their children and learn tips to teach kids to live an earth-friendly lifestyle at every age with a special celebration at the New Jersey Children's Museum. Activities include making crafts out of recycled objects. April 17 and 18 at 10am. $10. 599 Valley Health Plaza, Paramus, NJ. 201-262-5151. www.njcm.com.
Earth Day Celebration
Celebrate Earth Day at SUNY Rockland with live music, live animal presentations, educational programs, and information from a variety of "green" groups/vendors. Experience reptiles up close with Rizzo's Reptile Show, starting at 11:15am. Then see birds of prey demonstrate their amazing abilities, at 12:30. Lunch will be available for purchase ($5 per plate) with all proceeds going to an environmental scholarship and a local environmental organization. April 20 at 9am. All ages. FREE. 145 College Road, Suffern. 845-574-4000. www.sunyrockland.edu.
Earth Day Special
Barnes and Noble at the Palisades Center hosts two special story times with activities for Earth Day. Children can hear stories that relate to the Earth Day theme, color, and plant flower or vegetable seeds to take home with them. April 22 at 11am and 7pm. FREE. 4416 Palisades Center Drive, West Nyack. 845-348-4701.
Earth Day Celebration
Learn about the Bear Mountain Zoo's animals and check out spring-themed enrichment for its residents. Come early, at 10:30am, and help make treats for the bears, who will come out of their dens to gobble them up at 11am. Also enjoy nature-related displays, activities, and games, plus tips to help you look after Mother Earth. April 24 at 10am (rain date April 25). All ages. $7 parking per car. Palisades Interstate Parkway, Bear Mountain. 845-786-2701. www.palisadesparksconservancy.org.
Earth Day Fun Fair and Yard Sale
The Hudson Highlands Nature Museum's Outdoor Discovery Center hosts its annual Earth Day celebration with music, prizes, live animals, pony rides, and other activities for children. Adults can search for treasures at a giant yard sale. Refreshments available for sale. April 24 at 10am. All ages. Muser Drive, Cornwall. 845-534-5506. www.hhnaturemuseum.org.

Celebrate Earth Day
Stop by the Haverstraw King's Daughters Public Library for a special Earth Day celebration. April 25 at 2pm. FREE. 10 West Ramapo Road, Garnerville. 845-786-3800. www.hkdpl.org.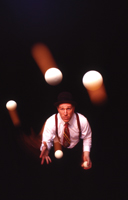 Juggling Galore
Will Shaw brings his unique blend of juggling and comedy to the Nyack Center, for the next Milk and Cookies Playhouse production. Besides juggling, Shaw spins a mean cowboy rope, rides a unicycle, and stilt-walks. If you doubt his talent, then check this out: Shaw has taught the world-famous Ringling Brothers and Barnum and Bailey Circus clowns a thing or two. April 10. 10:30am. $10. 58 Depew Avenue, Nyack. 845-418-ARTS. www.artsrock.org.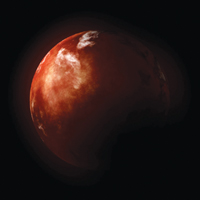 Public Mission: Trip to Mars
Vacation plans still seem elusive? Why not take a quick trip to the red planet when the Lower Hudson Valley Challenger Center holds its monthly Public Mission. "Crewmembers" attend a briefing session and then select tasks to perform, such as Navigation, Medical, Communication, and Life Support. Small teams conduct research, perform scientific experiments, and even deploy a probe. Tasks are detailed enough to feel real and challenging, simple enough for kids to do, and fun. Saturday, April 10. 2pm. $10; $5 ages 8 and under with an adult, and seniors. Lower Hudson Valley Challenger Center, 225 Route 59, Airmont. 845-357-3416. www.lhvcc.com.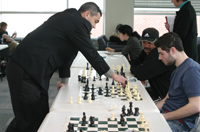 Checkmate Times 25
Students from Rockland County high schools and SUNY Rockland are invited to compete against international chess grandmaster and pan-American Intercollegiate Champion Gennady Sagalchik at the college's 22nd annual Chess Tournament. Sagalchik, who will play 25 games simultaneously, was born in Minsk in the former Soviet Union. He has played since age 3 and began formal study at age 10 at the Soviet Union's most prestigious chess schools. Pre-registration required to participate. April 13, 12-4pm. In the Student Union. 145 College Road, Suffern. 845-574-4767. www.sunyrockland.edu.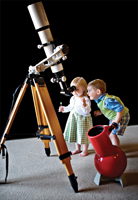 Play With a Meteor
Kids can check out planetarium shows, play with pieces of real meteors, and meet the Science Channel's Meteorite Men (Sunday at 2pm) at the 19th Annual Northeast Astronomy Forum and Telescope Show at SUNY Rockland. Organizers tout this weekend-long event, April 17-18, as the largest telescope and astronomy show in the world. Activities, talks, and exhibits will be available for all levels of astronomers from amateur to advanced.
Open 8:30am-6pm on both days. All ages. Free admission for children. 145 College Road, Suffern. 845-574-4767. www.sunyrockland.edu.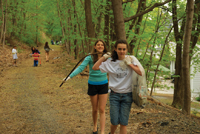 Help Keep Rockland Beautiful
Get an assignment at the annual, weeklong Great American Cleanup, Rockland's biggest community environmental activity, which runs April 17-25. Participants are invited to get a crew together, register for supplies and guidance, including site assignments, do their part in the cleanup, take group photos, and have fun. Ages: YE, TW, TE, AD. Call 845-623-1534 or visit www.keeprocklandbeautiful.org to register. Sponsored by Keep Rockland Beautiful, 65 Parrott Road, Building 12, West Nyack.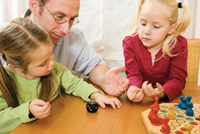 Spin, Roll, or Draw
In honor of TV Turn-Off Week, Barnes and Noble at the Palisades Center is hosting a Family Game Night on April 23. Although the event takes place in the store's children's section, there will be a variety of games available for all ages. 7pm. All ages. FREE. 4416 Palisades Center Drive, West Nyack. 845-348-4701. www.bn.com.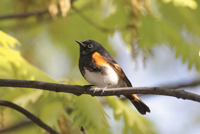 Follow That Bird
To mark the seasonal re-opening of the Stony Point Lighthouse and Battlefield, Alan and Della Wells of the Rockland Audubon Society will lead a guided bird walk around the historic site. Beginning birdwatchers and families are welcome to join them as they search for migratory, neo-tropical birds. April 24. 8am. FREE. 44 Battlefield Road, Stony Point. 845-786-2521. www.rocklandaudubon.org.
For even more activities and events in Rockland and the NYC area, visit our Online Calendar.
Get the best Rockland area events delivered to your inbox each week when you sign up for our newsletter