You're never too young to learn. As a matter of fact, you're never too old either. This adage is well illustrated at the
Lower Hudson Valley Challenger Center
, because on the day of my visit, I, too, became an astronaut.
   I park my car in the strip mall next to the center, and there begins my journey; leaving behind familiar storefronts like Applebee's and Starbucks, I venture toward the modern structure of the Challenger Center, its façade alone a revealing clue to the exciting goings-on inside.
   I ring the doorbell and John Huibregtse, Lead Flight Director, beckons me in, eager to share the magic of the facility with yet another visitor.  I gingerly confess that while I am a resident of the neighboring town of Airmont, I have yet to visit the center. He tells me that I'm in good company; every day is like "the first day of school" for him here, too.
   The Challenger Center for Space Science Education is an international not-for-profit organization, founded in 1986 by the families of the astronauts tragically lost in the Challenger mission. These centers are located all across America, and now Rockland County has proudly joined the fold.    
   My first stop is
The Briefing Room
, where three types of tasks are divvied up, including
'Return to the Moon'
,
'Rendezvous with a Comet'
and
'Voyage to Mars'
. Visiting classes are broken up into two groups: Spacecraft and Mission Control.
   Next I am escorted into
The Mission Control Room
. It is then that I recall my own learning block, developed in my elementary school days in trying to master the sciences. This is fast replaced, however, by a sense of awe and understanding, as director Huibregtse explains that it's not about
how much
science a child knows, it's about teamwork, cooperation and following instructions in reaching a common goal. I take in the impressive technology and the kid-friendly layout. I can picture the faces of mesmerized children, diving into their project with enthusiasm and passion.
   We depart the control room, and I am led to
The Spacecraft
itself. Here I pass through a double door into a dark elevator-like space. This, I learn, simulates a real spaceship access area. In space, the Air Lock double door keeps air tightly contained.  Looking around the room, I take in the props and gadgets, from robotic arms to a medical testing station. Walking about the craft, I notice tiny plastic alien figures strewn randomly. Huibregtse explains that the octagonal spacecraft is set up for a Youth Mission group due to visit the next day. These will be very young astronauts who will be told that the craft has been invaded by tiny, glowing, "homesick" aliens. Their first mission will be to find all the homesick aliens and bring them to a waiting
Clean Room
in order to return them to their home planet.
   The Center boasts that learning is approached from a hands-on perspective. I ask about the child who just can't grasp it. "No matter what kids do on a mission, they can never ruin that mission," the director reassures me. "The learning process is done at one's own pace, allowing all children to become researchers, scientists and astronauts while still being just plain kids."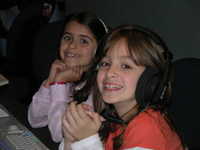 Primary visitors, he says, are 5th and 6th graders. And it is, of course, a perfect place for the space-obsessed. Huibregtse shares a story about a mission where some very young astronauts were involved in a Q&A warm-up activity as their parents watched on. When the children were asked to name something special about Mars, the room became very quiet and still . . . until a little girl raised her hand and in her tallest voice replied, "That's easy; Mars has the largest mountain of the solar system called Olympus Mons."
Info
Where:
225 Route 59, Airmont
When:
Public Missions are scheduled on the third Sunday of every month, 2-5pm
How much:
Tickets are $20 per person (cash/checks).  LHVCC is recommended for ages 9 and up, but younger children may participate if accompanied by a paying adult. Ages 8 and younger fly free. Reservations are highly recommended.
For more info:
(845) 357-3416;
www.LHVCC.com
School Groups:
Teachers should call (845) 357-3416 for mission prices and BOCES CoSER contract reimbursement information.