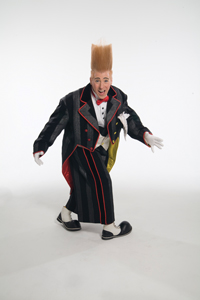 The Palisades Center - AKA our very own backyard - is the venue for the Big Apple Circus to welcome back world-famous clown Bello Nock. After a nine season absence that included a stint at Ringling Bros. and Barnum & Bailey Circus, Bello returns this fall with a show named no less than "Bello Is Back!"
Audience members might recognize Bello's appearance before they identify with his name. The entertainer is famous, not for a clown's white-face makeup and bushy red wig, but for his vertical hair that seems to stand on end with a life of its own, a flamboyant tuxedo and spats, and a teeny-tiny bicycle which was itself, the subject of attention when it was stolen off the street in Manhattan a few years ago. The seventh generation circus performer is also known for his daredevil antics including high-wire, trapeze, and motorcycle stunts as well as his trademark "sway pole."
Big Apple Circus promises that "With thrilling feats of derring-do and stylish sense of whimsy, Bello will astound and delight one and all."
This isn't the first time the distinctive entertainer - named the World's Best Clown by Time magazine - has had the honor of having a show named after him. Big Apple Circus presented "Bello & Friends" during their 1999-2000 season. And in a rare move, Ringling presented "Bello-bration" in 2008. It was the first time an individual performer had such an honor in that circus's 137 year history.
Despite the fanfare and the fact that both his parents are veterans of the more famous, three-ring circus, Bello is returning to the intimacy of a one-ring show that appeals primarily to young audiences and their families, according to Big Apple Circus Spokesman Philip Thurston.
While Big Apple Circus definitely attracts circus fans of all ages and couples on dates, Thurston said their core audience is ages 3-13. Indeed, seats are never more than 50-feet from the stage so even young circus-goers get a great view of the action.
Joining Bello this fall are an international crew of talented performers, including Bello's daughter Annaliese. Other performers include "spectacular acrobats from Italy, Russian wizards of the trampoline and the flying trapeze, a graceful flight on the aerial silks, fiery steeds and cavorting canines, playful Chinese contortionists, and Picaso Jr., the sensational Spanish juggler." Indeed, the equestrian and canine acts are highlights of the show and are sure to thrill young audiences.
"Bello Is Back" kicks off the Circus's 32nd year and runs through October 12 at the Palisades Center in West Nyack. The show starts an 11-month, 7-city tour that includes future dates in New York and Long Island.
Tickets range in price from $15 to $45 and are available online at www.bigapplecircus.org or by calling 888-541-3750. Tickets can also be purchased at the Nyack Village Theatre, 94 Main Street, Nyack. The theater is open 11am-3pm daily; there is a $1 service fee per ticket. The Circus Box Office, located in front of the Big Top in the commuter Park & Ride lot, opposite Home Depot in the Palisades Center mall, will open on Wednesday, September 24. Hours of operation will be Saturday, Sunday and Monday from 10am-6pm, and Tuesday through Friday from 10am-8pm. Ample free parking is available steps away from the Big Top, including special needs parking.