Bergen Pediatric Therapy Center in Westwood, New Jersey, opened a new facility with a heated therapeutic pool and new services for kids.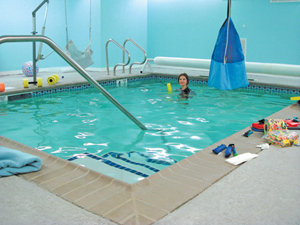 In October, Bergen Pediatric Therapy Center (BPTC) moved to a new space. The move allowed the center to both double its size and expand its amenities and services for kids.
BPTC remains in the same building on Old Hook Road in Westwood, NJ, but now claims the lower level instead of the first floor. Before the move, the center predominantly provided occupational therapy services, says director Victor Wang, but it has now added a physical therapy gym and a therapeutically designed, heated saltwater pool for aquatic therapy.
This "aqua therapy" is the center's most distinguishing service, Wang says. For children with physical disabilities, the indoor pool provides a gravity-reduced environment that allows them to work on motor skills that may be difficult on land. The center's aquatic therapists help children with a variety of special needs, including abnormal muscle tone, coordination difficulties, and sensory processing disorders.
In addition to occupational, physical, and aquatic therapy services, the center provides speech therapy and listening therapy, the latter of which works well for children on the autism spectrum, Wang says.
BPTC is located at 354 Old Hook Road, Suite LL1, Westwood, NJ. For more information: 201-722-4700 or www.bergenpediatrictherapy.com.