Weird Science
You don't have to be a science geek to enjoy an Open House celebration at the Lamont-Doherty Earth Observatory of Columbia University. This annual event features more than 40 scientific exhibits and demonstrations, many of which are kid-friendly and hands-on. Check out a model of an erupting volcano, listen to the sound of an earthquake, and get a giggle from a "bathtub science" display (pictured) in which geologist Marc Spiegelman dances in a bathtub filled with cornstarch and water to show how rocks deform over time. October 1. 10am-4pm. All ages. FREE.
Lamont-Doherty Earth Observatory, 61 Route 9W, Palisades.
A Night Under the Stars
The Hudson Highlands Nature Museum invites families for a mini getaway at a Family Camp Out. Participants bring their own tent and sleeping bags for a fun night around a campfire. The nature center provides the evening's entertainment, which includes an astronomy program, stories, a campfire, and the makings for some old-fashioned s'mores. October 1-2; rain date October 9-10. 5pm-9am the next morning. All ages. $15 per person, $8 children under 5.
Hudson Highlands Nature Museum, Outdoor Discovery Center, Muser Drive, Cornwall.
Viva Italia
Celebrate everything Italian, including food, crafts, and entertainment, when Congers hosts its Fifth Annual Italian Festival. Arrive early to find parking at this very popular event. October 2. Starts at 11am. All ages. FREE.
Congers Station Park, Lake Road and Burnside Avenue, Congers. More info: www.congersitalianfestival.com.
Women's Health Matters
Mothers are the ultimate caregivers in their families but they need to take care of themselves, too. To that end, there are several local events taking place this month. October is National Breast Cancer Awareness Month, which should remind us all to pay more attention to our health, for our sake and our family's.
Two are hosted by Nyack Hospital. EmpowHERing Women: An Evening of Living, Learning, and Celebrating Women's Health features a panel of experts who will discuss important women's health issues. Panel members include Dr. Patricia Joseph, the hospital's director of breast and women's health prevention, and Dr. Shari Siegel-Goldman, director of breast imaging. October 12, 5-9pm. $75. Comfort Inn & Suites, Route 59, Nanuet.
Then on October 19 at 5pm, the hospital presents Dine Out for the Girls! Participating restaurants will donate a portion of the evening's proceeds back to Nyack Hospital's Breast Center. For more information on either event, including a list of participating restaurants, contact Mary Fiore, director of special events, at 845-348-2771 or [email protected].
And JCC Rockland hosts the Minna Josef Women's Health Symposium. Presenters on four panels will discuss various health-related topics, then lead Q&A sessions. The seminars will be preceded by dinner and a keynote address. October 12, 7-10pm. $36 until October 10; $50 after October 10. 450 West Nyack Road, West Nyack.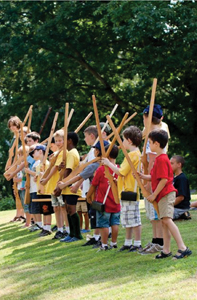 Revolutionary Lessons
The Stony Point Battlefield and State Historic Site, situated on the scenic Hudson River, hosts a series of Fall Walks and Talks, on weekends through October 30. Guides take families on a walking tour that illustrates the storming of Stony Point during the American Revolution. Children can then check out a blacksmith's shop and battlefield soldier's camp before pretending to be colonial soldiers. Saturdays 10am-5pm; Sundays 12-5pm. All ages. $5 parking.
Stony Point Battlefield and State Historic Site, 44 Battlefield Road, Stony Point.
Fall on the Farm
Families can find their perfect pumpkin, then let the kids explore an inflatable slide, haunted house, and corn husk maze at the Orchards of Concklin, which hosts apple and pumpkin picking as well as special events each weekend throughout the month. 10am-5pm on Saturdays, Sundays, and holidays. Apples and pumpkins priced per pound; fee for special events.
Orchards of Concklin, 1010 Route 45, Pomona.
Bookworms Welcome
It's never too soon to shop for the holidays. The JCC Rockland hosts a Scholastic Book Fair, featuring a selection of children's books and games. October 30, 9am-3pm; October 31-November 3, 9:30am-5:30pm; November 4, 9am-1pm.
JCC Rockland, 450 West Nyack Road, West Nyack.
More Fun
Find even more free and low-cost family and kids' activities in Rockland and the NYC area in our Calendar of Events