From twisty slides to pedal-powered carousels, kids love to jump, climb, swing, and slide. Why not venture beyond your family's go-to park for a change of pace? We've zeroed in on some of the best playgrounds in Rockland County, New York.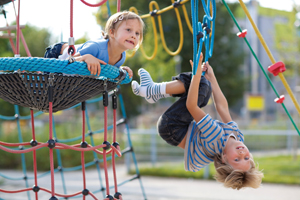 Main Street in Haverstraw, NY
At the Emeline Park playground, children enjoy sprinklers, a space module, a slide, and a dome climber to scale and hang from. The play area is fenced in to trap wandering tots, and waterfront access makes this park a win for sticky summer days. Picnic tables and benches provide spots for families to refuel when the playground fun goes into overtime to become a daylong affair.
Tip: This is a great place to take a stroll. On a warm summer night, ditch the kids and make use of the paved walks and fabulous view.
21 Gagan Road, Haverstraw, NY
This vast playground offers three different sections for kids of various ages. Slides, tubes, and poles forsliding down add to the fun. Located on the Hudson River, the rock shore practically begs for stone-skipping competitions, and the numerous picnic tables and pavilions afford families plenty of barbecuing space. Although wading and swimming is prohibited, the fishing piers and boat launch offer water-induced fun of a different kind.
Tip: If you plan on fishing, be sure to bring your own supplies; poles are not available for rental.
53 Piermont Avenue, Nyack, NY
Although this park is small and the playground caters more to the youngsters, there is plenty of shade and it remains the county's cultural hotspot for events such as the "Mostly Music" program on Tuesdays during summer. Kids who aren't into the playground equipment enjoy the tennis courts or baseball fields and playing in the large gazebo. The park also boasts a butterfly garden, and the modern bathrooms include chang-ing tables.
Tip: Bathroom supplies run out quickly during the busy summer days. Bring a roll of toilet paper and hand wipes to avoid a messy situation.
Also see: Best Playgrounds in NYC
Our guide to the most family-friendly beaches in the NYC area