SEE OUR MOST RECENT HEALTH & WELLNESS GUIDE FOR FAMILIES IN ROCKLAND COUNTY, NY
---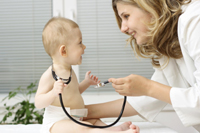 In this comprehensive guide to family health and wellness services in Rockland County, NY, you'll find pediatricians and doctors, dentists, hospitals, medical centers, gyms, sports programs, and more, all in your area.
BERGEN PEDIATRIC THERAPY CENTER
354 Old Hook Rd, Suite 104, Westwood, NJ
(201) 722-4700

At Bergen Pediatric Therapy Center, we strive to provide children with an innovative multi-disciplinary approach by offering the following services on site: aqua therapy, speech therapy, physical therapy, various listening therapy, occupational therapy with a sensory gym, and social skills group, as well as offering ABA (Applied Behavior Analysis). Our team is dedicated, caring, and hands-on, and provides a nurturing environment by catering to the physical and emotional needs of the entire family.
CLEMENTE ORTHODONTICS
603 S. Route 304, New City; (845) 638-6646
60 W. Ridgewood Ave, Ridgewood, NJ; (201) 447-2888

At Clemente Orthodontics our patients receive the benefit of experience, quality and energy that comes with a multigenerational team. Dr. Michael Clemente and his daughters, Dr. Nicole Clemente and Dr. Marissa Clemente work together seamlessly to care for your orthodontic needs. We run a state of the art practice with digital x-rays, private treatment rooms, and a highly experienced staff along with all the features you want in an orthodontic practice. We are an Invisalign Preferred Premier provider offering Invisalign and Invisalign Teen as treatment options. Consultations are complimentary.
COHEN, DR. GWEN
156 Ramapo Valley Rd, Mahwah, NJ
(201) 828-9188

Dr. Gwen Cohen, in private practice for 11 years, provides both children and adults a friendly, modern approach to orthodontics. The office is minutes from downtown Suffern. She is a Board Certified Orthodontist, one of a few in our area and is proud of her highly qualified staff. Dr. Cohen's background and education present her patients with the latest in orthodontic technology: digital x-rays, Invisalign and Lingual braces in a relaxed, comfortable and state of the art setting.
DENTAL WELLNESS OF SUFFERN
2 Executive Blvd, Ste. 307, Suffern
(845) 918-1801

We believe in stress-free preventive dental care. This enables the body to heal more effectively, and tolerate procedures sometimes accompanied by fear or pain. We take pride in making children's dental visits a fun and friendly experience with balloon sculptures, magic, and Wii games. Dr. Alpert is the author of "Cassandra Gets Her Smile Back" (available now on Amazon.com-published by Small Horizon Press) and "Attack of the Sugar Bugs," books that help children relax when they visit the dentist. Adults can enjoy the spa-like atmosphere including aromatherapy and reflexology.
FAMILY VISION & LEARNING CENTER
12 N. Airmont Rd, Suite 5, Suffern
(845) 369-3235

Is your child smart in everything but school? Does he or she have ADD or ADHD, read slowly, avoid reading, skip words/lines when reading, have frequent headaches or is sleepy with reading? One in four children struggle with reading and learning because of hidden vision problems. Adults who use computers may suffer from Computer Vision Syndrome. Evaluation and treatment of these vision problems are among the unique services we offer at our full-service eye care practice. For details, attend our free seminars/check our website.
FIDELIS CARE
(888) 343-3547

Fidelis Care, the New York State Catholic Health Plan, serves more than 645,000 members in 53 counties throughout New York State. It was founded on the belief that all New Yorkers should have access to affordable, quality health insurance. Through New York State's Child Health Plus, Family Health Plus, and Medicaid Managed Care programs, members are covered for regular checkups, preventive care, hospital and emergency care, eye exams, dental care, and more. For seniors, Fidelis Care also offers quality, affordable coverage through Medicare Advantage and Dual Advantage programs.
FISHER, DR. EDWARD S. AND REDDY, DR. VARSHA
6 Independence Ave, Tappan
(845) 359- 8080

The pediatric dental office of Dr. Edward Fisher and Dr. Varsha Reddy provides exceptional treatment and management of your child's dental needs. As specialists in pediatric dentistry, Dr. Fisher and Dr. Reddy use their extensive training with children to provide dental treatment in a calm, caring and child-friendly atmosphere. Their goal is to have an office with a positive environment for families to come and grow with them and their highly-experienced staff.
GRANDMASTER B.M. KIM'S TAE KWON DO
75 West Route 59, Nanuet; (845) 623-2002
60 S. Broadway, White Plains; (914) 428-0085
187 N. Main St, Port Chester; (914) 934-1861
969 N. Central Ave, Scarsdale; (914) 472-2060

My name is Diane, mother of three. My 7-year-old son is a black belt at Grandmaster Kim's Tae Kwon Do. During the past 4 years he has developed discipline, increased concentration, and loves the exercise. Now my whole family is enrolled, including my mother. I am in the best shape of my life and with a lot less stress. Sign up today and you too can enjoy the benefits of Tae Kwon Do.
HTA OF NY
120 N. Main Street, Suite 207, New City
(845) 638-3072
We provide early intervention and preschool services for infants to 5 year olds. We are approved by New York State to provide speech therapy, physical therapy, occupational therapy, special education/ABA, family counseling and training, Service coordination and evaluations. Bilingual therapists are available. All IEP services are provided at no cost to parents. Health insurance may be used for approved services. A child's eligibility for the programs can only be determined by state-approved evaluation under contract and all services must be authorized by the county.
HUDSON HEALTH PLAN
303 S. Broadway, Suite 321, Tarrytown
(800) 339-4557

Good news! No family earns too much to qualify for New York State's Child Health Plus insurance. Call Hudson Health Plan to enroll in free and low-cost insurance programs for children and adults. Hudson Health Plan offers comprehensive medical and dental care from the area's leading doctors and hospitals, and has received the highest ratings in customer satisfaction in the Hudson Valley since 2003. Visit the website for more information and follow us on Facebook. Your health matters.
J.Y. MOON TAEKWONDO
704 Executive Blvd, Valley Cottage
(845) 268-0200

If you have trouble with children or other family members who are sedentary and overweight and have poor eating habits, you should try Taekwondo. Classes at J.Y. Moon Taekwondo offer an outstanding alternative to tedious exercise routines that ultimately become short term. Our teaching methodologies are intended to keep students motivated while they develop healthier fitness habits. Better fitness and knowledge of martial arts will inevitably improve self-esteem, which in turn help students tackle all of life's challenges.
JCC ROCKLAND
450 W. Nyack Road, West Nyack
(845) 362-4400

JCC Rockland is the ultimate community center with 100,000 square feet of the best fitness in town. Second to eighth-graders enjoy the only XRKade interactive fitness center in New York. Personal training, nutritional counseling and babysitting are available too! Slow down and unwind in our tranquil spa where you are the center of our universe. Locker room amenities include towels, steam and sauna. Play basketball and racquetball. And when you're done with your workouts...enjoy great food at the Fit Café. JCC Rockland offers something for everyone and is open to all.
JOHNSON, DR. WILLIAM R.
Advance Chiropractic, P.C.
Holistic Allergy Center, 221 S. Middletown Rd, Nanuet
(845) 623-0026; [email protected]
If your child suffers from allergies, scoliosis, headaches, weight issues, ADHD and/or immune system problems then call for a free consultation to find out if you're a candidate for our incredibly successful 21st century Bax 3000 cold laser therapy. We use a non-drug, safe approach that combines cold laser, nutrition and chiropractic to help greatly reduce or eliminate allergies and many other conditions. Watch our allergy video testimonials!
KASTIN & NEWMAN ORTHODONTICS
6 Medical Park Dr, Pomona
(845) 354-7233

Dr. Brett Kastin and Dr. Warren Newman utilize state-of-the art materials and customized treatment planning for every patient, ensuring the highest quality of care. Dr. Kastin is a Board Certified orthodontist, certified provider of Invisalign, and is currently serving his 4th year as president of the Rockland County Dental Society. Dr. Newman has 33 years of orthodontic experience. The practice offers an experienced staff and flexible appointment times. Initial exams are complimentary, as are free recall appointments for children. They have been selected by the dentists in Rockland County as Top Orthodontists 2008-2010.
KORNGOLD, ROBIN L.C.S.W.
125 South Main St, New City
(845) 638-2822

Robin Korngold is the co-founder of Lifestyle Reconstruction Weight Control Center and specializes in the treatment of eating disorders and childhood obesity. She is a nutrition specialist, psychotherapist and personal trainer, certified by the American Council on Exercise. She is at the forefront of helping overweight children lose weight and get fit without feeling deprived. She has appeared as an eating behavior expert and child obesity consultant on Fox News, WRCR Radio, Rivertown Magazine and Cablevision. She provides children with a roadmap that includes: behavior modification, nutrition counseling, and individualized exercise programs.
LEVY, FAYE MS,OTR/L,CEIM
(845) 596-6763; [email protected]
Faye is a licensed occupational therapist and certified educator of infant massage. She has been working with infants and children for 30 years. Her practice includes teaching parents how to massage their infants in a 5-session course, as well as running a handwriting camp for grade school children. The camp is based on the Handwriting Without Tears curriculum as well as innovative craft projects designed to improve hand dexterity, perceptual motor skills and self esteem.
LOTUS PHYSICAL THERAPY FOR WOMEN, PLLC
974 Route 45, Suite 1100, Pomona
(845) 517-5100

Lotus Physical Therapy for Women offers specialized physical therapy care for women with prenatal/postpartum conditions, pelvic floor dysfunction, pelvic pain, incontinence, pelvic prolapse, osteoporosis and various orthopedic conditions. All treatment sessions are private, individualized and one-on-one. Luba Starostiak, physical therapist, director has been practicing physical therapy for nearly two decades. She is a board certified orthopedic specialist and has served on staff at several New York teaching hospitals including Hospital for Special Surgery, Hospital for Joint Diseases and Helen Hayes Hospital. For information, call or visit our website.
MASSAGE ENVY SPA OF NANUET
Route 59W and Middletown Rd, Nanuet
(845) 623-3111

Massage Envy is the leading provider of therapeutic massage. We offer many different types of massages and facials to choose from, all customized to your specific needs. We are dedicated to providing professional and affordable therapeutic massages and facials for people with busy lifestyles at convenient times and locations. Whether you're looking to relieve stress, get some much needed relaxation or lower your blood pressure, make your first appointment today!
MASTER JUNG & YU TRADITIONAL TAEKWONDO
70 N. Main St, New City
(845) 638-4000
Blending Korean culture and philosophy with traditional Taekwondo, Master Jung and Master Yu's school is unique in martial arts training. By combining physical with spiritual, we offer the most complete and satisfying training, embodying mind, body and spirit. Classes are open seven days a week for all ages. Our unique birthday parties open the door for future leaders and martial artists, and are available on weekends. Energize your whole being at Traditional Taekwondo. Call for more details.
MYCOOKINGPARTIES.COM
(845) 728-5578

Calling all aspiring chefs to be. Mycookingparties.com provides fun, safe and healthy cooking parties for children and young adults. Your chef can choose from one of our themes or we can customize a party for you. We offer healthy cooking classes and after-school enrichment programs. We can also be an add-on to any event to keep the kids busy and entertained. Available in Rockland, Westchester and northern New Jersey.
THE NUTRITION THERAPY CENTER?
971 Route 45, Suite 106, Pomona
(845) 499-0420

Carl Germano, RD, CNS, CDN is a registered, certified NY State Board Nutrition expert with over 30 years experience. Whether focusing on using diet and nutritional supplements as an adjunct to medical care to treat disease or utilizing the science of nutrition to optimize athletic performance, The Nutrition Therapy Center? offers a new approach to health and prevention of illness. Utilizing state-of-the-art equipment to monitor body composition, metabolic rate, nutrient deficiencies/excesses or monitoring for genetic influences of illness, The Nutrition Therapy Center? provides the most comprehensive and progressive nutritional care.
PEDIATRIC AND ADOLESCENT DENTISTRY OF ROCKLAND COUNTY, P.C.
16 Squadron Blvd, Ste 101, New City
(845) 634-3200

As a pediatric dentist, one of my most important goals is helping kids develop a positive attitude about going to the dentist. I specialize in caring for children 6 months to 21-years-old and work closely with their parents to establish good dental health habits. My practice features a child-friendly office with special touches, such as videos, music and Nintendo, to put the fun in dental visits. I am trained in the latest advances in medicine and dentistry and provide a full range of preventive, routine, and emergency dental care for children.
PETERS, SCOTT C., D.M.D.
156 Ramapo Valley Rd, Mahwah, NJ
(201) 529-9000

Dr. Scott Peters' pediatric dental office features state of the art dental care for the children of Rockland and Bergen counties. Dr. Peters is especially skilled at treating all children in a caring and professional environment. The staff at Dr. Peters' office are caring and devoted to making the dental experience positive for a lifetime of good dental health. The office features drill-less and shot-less dentistry with a laser, as well a comprehensive dental care.
ROCKLAND PEDIATRIC DENTAL, PC
238 N. Main St, New City
(845) 634-8900

The teams at Rockland Pediatric Dental, PC and Ralph L. Berk, DDS, PC, are dedicated to providing dental care for all children infancy through adolescence, children with special needs, and orthodontics for children and adults in a safe, compassionate and stress-free environment. We offer meticulous, uncompromising, state-of-the-art dentistry with a commitment to the health and welfare of the whole being and an emphasis on prevention through lifelong dental education. Financing is available.
THE SPORTS PLACE
600 Bradley Pkwy, Blauvelt
(845) 358-GAME (4263)

Classes are enrolling now! Need a great place for your kids to get exercise and have fun? TSP's 1st to Home® Sports Enrichment program is available for kids as young as 2 1/2. They'll learn about motor skills, body control, and proper exercise. We also have speed and agility and boot camp fitness for kids and adults! Is it birthday time? TSP specializes in kids' birthday parties on our soft turf fields, basketball courts, GloPutt mini-golf, laser tag, and inflatables.
TRIUMPH TAE KWON DO
54 North Middletown Rd, Pearl River
(845) 732-0292
Triumph offers a full range of programs to benefit toddlers through adults including family training. We can help weight control, physical fitness, agility, balance, coordination, self discipline, cardiovascular conditioning, and much more. Teen programs help improve speed, grace, and strength. Master Oh is educated in child psychology and has over 15 years teaching experience so the family will be in good hands! Join us and feel great.
TUMBLE BEE GYMNASTICS
401 Nanuet Mall South, Nanuet
(845) 623-2553

Tumble-Bee Gymnastics, serving Rockland County for 25 years, offers programs for boys and girls ages 10 months to 12 years. Our preschool program offers exciting weekly lessons and theme weeks. We are the only gym in Rockland County licensed to teach the nationally recognized Fun & Fit Gymnastics after-school program for children entering kindergarten through sixth grade. Our warm and well-trained staff will teach your children the skills that give them the confidence and self-esteem they need to achieve success in the future. Register early! Classes close out quickly.
VISION SPORTS CLUB
37 W. Jefferson Ave, Pearl River
(845) 517-1400

We offer complete family fitness programs under one spacious 45,000 square foot location. Our Youth Fit Zone introduces fitness to kids at a young age and empowers them by building a lifetime of healthy habits. Guided programs are provided for children ages 8-15 under the direction and supervision of Vision Fit coaches in their own "gym within a gym." Featuring youth-only classes such as yoga, hip hop and Spinning plus a Youth Lounge equipped with computers and a flat screen TV.
WEST ROCK INDOOR SPORTS AND ENTERTAINMENT COMPLEX
21 Pralle Lane, Bardonia
(845) 507-0046

Rockland's premier facility for sports training and development and special events. We offer programs for children and adults in basketball, soccer, baseball, tennis, dance and fitness. No matter what your child's age or athletic ability, we have a program to meet his/her needs. Our highly skilled staff will ensure your child has the perfect mix of fun, physical activity and athletic training. With 16,000 square feet, we can customize any type of special event or birthday party with a wide variety of inflatables as well as a state of the art arcade.