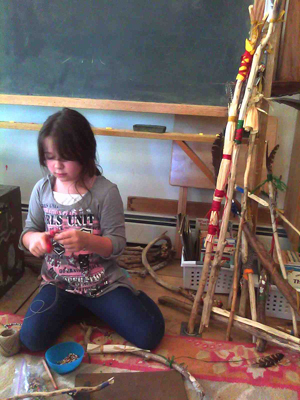 Connecting kids with their environments to foster new creativity and learning has always been a part of the Blue Rock School's mission. Now, after receiving a grant from the Arts Council of Rockland and the Arts-in-Education Program of the New York State Council of the Arts, the West Nyack day school possesses the funds necessary for jumpstarting a new project. The special project, called Making Art from the Landscape: Indigenous Art and Indigenous People, allows Blue Rock students to study how landscape affected Saami, Zuni, and Lenape/Iroquois art forms.
Brooke Smokelin, an environmental educator, artist, and the brains behind this project, believed this would be "yet another unique way that Blue Rock students get to connect fully with their immediate natural environment and have opportunity for authentic reflection and creative expression." She added: "My hope was that students would gain a thoughtful understanding of how indigenous peoples the world over have been inspired by their own familiar landscapes and have brought those inspirations out in their art, song, stories, and rituals."
After learning about and examining indigenous art and landscapes, the students embarked on their own art projects using materials procured from local landscapes. Students collected everything from shells and sea glass from the Hudson River shore to berries, mud, and sticks from the Blue Rock School's vast wooded campus. Berries doubled as dyes and the sticks where charred to replace the modern-day charcoal pencil for drawing. The results yielded everything from medicine bags to cornhusk figurines. Students took their understanding one step further by also inventing a symbolic language in order to tell stories about the landscapes present in their creations. Once the project ended, the participating students hosted a school-wide bonfire in which schoolmates, teachers, and staff members could view the artwork as well as celebrate with food, song, and stories.