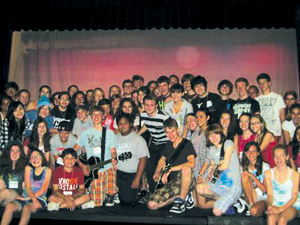 Broadway Theater Workshops is offering a new summer program, Advanced Theater Camp, for students who are ready to take the next step in mastering the craft of stage performance.
The two-week intensive session, which runs July 5-15, will have seasoned Broadway professionals teach students acting techniques, speech and diction, stage combat, dancing for musical theater, vocals, improvisation, and audition skills. Students in grades 10 to 12 will be required to audition and have prior stage experience for admission into the program.
The Advanced Theater Camp will be co-directed by prominent Broadway composer Neil Berg and John Asselta, a professional with more than 35 years of directing high school musicals. "We offer a unique experience and create a supportive environment for our students," says Asselta "We are fully focused on the process involved with helping our students become better performers and not just the end product."
Advanced Theater Camp will be held at Saint Joseph Regional High School, 40 Chestnut Ridge Road, Montvale, NJ. For more information: 201-962-2806 or www.sjrtheater.com.