A cold winter weekend was as good a time as any to celebrate the Hudson River. Throughout the years – and throughout the seasons – the river has been a lifeline between New York City and the communities upstate. Even today, commuters from the Hudson Valley use a ferry along the river to get to jobs in Manhattan. A rail line on the east side of the river takes passengers in and out of the city, while one on the west side supports massive freight trains.
So it was in late January that my family stopped by the Knickerbocker Ice Festival in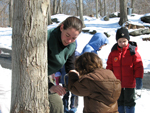 Congers. The festival celebrated Rockland Lake's history in harvesting ice, which was sent downriver to the city in the days before refrigeration. The event also marked the local launch of a yearlong celebration of the 400th anniversary of the discovery of the Hudson River and Lake Champlain by western explorers.
Throughout the year, a variety of quadricentennial activities will take place in towns along the river. While many have a historical focus, many more are simply a good excuse to get in your car and explore the Hudson Valley region.
This month, the Hudson Highlands Nature Museum continues its Quadricentennial commemoration with a winter Maple Sugar Festival. Visitors learn about the development of maple sugaring through 400 years of New York State history. What began as an exchange of ideas and practices between early explorers and Native Americans has become one of our best loved treats and an important industry in our state. Forty-five-minute tours are offered on Saturdays and Sundays through March 22 and include a demonstration of the maple sugaring process plus tasting time back at the museum's farmhouse.
In May, learn how the Tappan Zee Bridge turned Rockland County from a rural farming community into a suburb of New York City and opened the county to modern day explorers in the form of tourists, immigrants, and suburbanites. A special exhibit at the county's Historical Society in New City will show how the bridge was crafted, what was displaced in order to build it, what the county was like before the bridge, and the challenges that arose from development.
While many events will be held upstate – in Albany, Troy, or even further north – there are plenty of activities to be found in the lower Hudson Valley region, including in our neighboring Westchester. As you read this, the weather is warming up. Why not bring your bike or put on your walking shoes to enjoy this river that continues to inspire artists and those of us who live along its shores?
For more information, visit www.exploreny400.com.