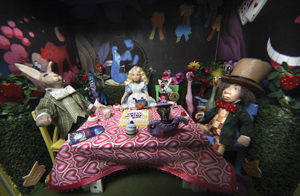 While the word "museum" might not initially set your tot's eyes (or yours, for that matter) aglow with excitement, you both might be surprised at how unstuffy a day at the museum can be.
Check out the locations below in Rockland and Orange Counties, NY, that offer exhibits that cater to the younger crowd, which means they're specially designed to be interactive, colorful, and fun, as well as educational. Some may build on your child's school curriculum while others might introduce something totally new, but each specializes in creating an environment that brings learning and playing together for children-and, of course, their grown-ups are welcome too!
Also see our complete 2011 Guide to Children's Museums Exhibits.
Bear Mountain Trailside Museum and Zoo
Palisades Interstate Parkway (Exit 19), Bear Mountain
845-786-2701
Open 10am-4:30pm daily. $8 parking fee per car; $1 suggested donation per person.
The site features 40 acres of trails linking the homes of several birds of prey, the bear den, and habitats for beavers, a river otter, foxes, coyotes, and more. The museum includes exhibits on Native Americans, the Revolutionary War, and the Boy Scouts.
Hudson Highlands Nature Museum
Wildlife Education Center: 25 Boulevard, Cornwall-on-Hudson
845-534-7781
Its exhibits highlight the local ecosystem, and it offers a variety of animal- and nature-based programs for kids.
The Sturgeon Swims Through Time: The exhibit presents 400 years of Hudson River history "through the eyes of the Atlantic Sturgeon," an ancient species of fish that has witnessed and withstood tremendous changes along the Hudson River over the years.
Reptiles and Amphibians of the Hudson Highlands: Visitors can learn about local reptiles and amphibians and how they thrive in the Hudson Highlands habitat. $3 per person.
The Historical Society of Rockland County
20 Zukor Road, New City
845-634-9629
Open Wednesday-Sunday 12-4pm. $7; $3 children 12 and under. The museum features a collection of 3,650 objects that date from the early 18th century to the present, including furnishings original to the Blauvelt House family and to the early farms and industries of Rockland County.
35th Annual Dollhouse and Miniature Exhibit: A Celebration: This year's show features the work of miniature artist and Rockland County native Sandra Mirque. The show also includes pieces by collage artist Elizabeth Parsons of Monroe as well as art dolls and dollhouses by West Nyack artist and children's book author and illustrator Barbara Soloff Levy. Open through February 27.
Ever wonder how these exhibits come together, or what formula the museum's follow to find the perfect balance between learning and fun? Check out Children's Museums: Behind the Exhibits and get the answers, straight from exhibit developers in the New York metro area.