Like many good stories, it started at a bar! Nyack resident Danny Quinn, a musician who had been performing at Davy's Locker in Montvale, N.J., every weekend for 14 years, met Tom Gardner, a self-taught guitarist. Quinn began inviting Gardner onstage to sing cover songs. "We knew from the beginning we had a connection," says Gardner, an Orangeburg native and father of three. The Uncle Brothers were born in 1998 — when the two recognized that they shared a passion for children's music. "We realize it's a silly name, but it stuck," says Gardner. "And we were sure to get the website!"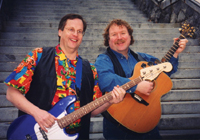 It was after an invitation by an elementary school teacher to perform for her class that the Uncle Brothers noted the need for music geared to the pre-tweener set (ages 4-10). So they met with teachers and parents to determine what issues should be addressed.
"Children literally go from Barney to Britney and there's nothing in between," notes Gardner. Adds Quinn: "We wanted to make music that did not make kids grow up too soon."

Their music offers parent-friendly messages on a variety of subjects, through catchy melodies and interactive live shows. Rich with influences from '60s and '70s music, it's also enjoyable for parents.

The Uncle Brothers liken themselves to a cross between the interactive storytelling of Jimmy Buffett and the comedic styling of The Smothers Brothers. "We use humor to hit it home," Quinn explains.

Combined, the duo has over 15 albums, including the award-winning Monkey's Uncle. Dan Jenks, the unofficial third member of the group, produces their CDs, and helps craft the music to feature sounds ranging from jazz, to boogie woogie, to rock and roll.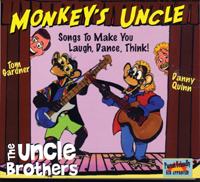 In addition to their records, The Uncle Brothers have developed a following among hundreds of elementary schools in Rockland, Westchester and neighboring counties. They created a school assembly program that encourages character education through original songs — with messages about respect, persistence, kindness, conflict resolution, reading, and the perils of drugs and tobacco. The program is a favorite at Rockland schools such as Tappan Zee and William O. Schaffer (both in Tappan), Franklin Avenue in Pearl River, and Connor Elementary in Suffern, with interest spreading across the globe, to countries like Israel and New Zealand. The Discovery Channel will use their take on "Waltzing Matilda" in a future program.

The Uncle Brothers released their first holiday CD, Mooseltoe, this past season; it's filled with original tunes and new twists on old favorites. To update some of the standards, they incorporated new lyrics. "We changed some of the words in "Jingle Bells" to include lyrics about iPods and Rollerblades," explains Quinn. Also on the album is a rendition of "Christmas in Killarney", a tribute to Quinn's musical roots.

Quinn has been performing children's music since 1980, but music runs in his family. "My father was a trained tenor at Juilliard," he says. And his grandfather was an Irish tenor who performed with Enrico Caruso. Quinn has spent most of his adult life performing Irish and American folk music, and touring with Tommy Makem and other artists like Tom Chapin, Peter Yarrow (or Peter, Paul and Mary), The Clancy Brothers and The Wolftones.
Like Quinn, Gardner has a solo music career, and works as an artist-in-residence with elementary school children, presenting song and lyric workshops.

As highlighted throughout their songs, Gardner and Quinn are quick to encourage others to follow their dreams. To anyone interested in the music business, Quinn advises: "You need great organizational skills, and a good mailing and email list. You need to be your own marketer. Make radio stations and distributors aware of your music. Go to showcases to perform, and then get an agent and a manager."

The Uncle Brothers' goal is simple: "If one person came upon a point in their lives and remembered the messages from our song," says Gardner, "it would all be for a reason."

For more information and to purchase their CDs, visit www.unclebrothers.com.