Related: cafe, eatery, broadway, Italian, Thai, Mexican, Japanese, Mediterranean food,




Although located somewhat in the southeast corner of Rockland, Nyack is the cultural and culinary center of the county. The shops, restaurants, theaters, and architecture reflect the diversity of the community, giving this suburban town on the Hudson River a cosmopolitan air. It's sophisticated yet definitely kid-friendly.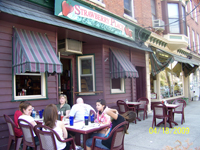 Let's Do Lunch
On a recent sunny day, customers enjoyed ice cream on the benches outside Temptations Café on Main Street. Diners waiting for a table inside this charming, casual eatery were greeted upon entry by a blackboard listing scrumptious-sounding deserts. Despite the restaurant's small size, it's stroller-friendly and has a changing table (it's in the men's room).

Head south on Broadway for Strawberry Place, another casual eatery with a menu that features an amazing array of waffles, pancakes, and omelets. The place is popular and often packed on weekends — but it's worth the wait.

Looking for a snack rather than a meal? True Food opened earlier this year featuring organic soups, salads, and baked goods. Two large tables as well as board games encourage socializing. Meanwhile, Highlights magazines and a small selection of toys invite children to play while their parents enjoy an organic, fair trade coffee.

Italian, Thai, Mexican, Japanese, and Mediterranean food can also be found with a little walking around town.

Shop This Way
While it's just a stone's throw to the mammoth Palisades Center Mall, Nyack has so far fended off most chain stores. A small but sophisticated selection of baby and toddler items can be found in the back of Maria Louisa, a women's clothing and accessory boutique with an international flair.

Meanwhile, Pickwick Books carries a large selection of new and used books for adults and children. Visitors to the store are greeted by the owner's two pets — a golden retriever, often found lounging in the doorway, and a cat, typically seen in the front window.

True Foods shares space with Revive, a vintage clothing and home décor shop. The store has a small selection of children's clothing, which was featured outside on a sidewalk sale when I visited recently.

Show Time
Riverspace Arts on Main Street hosts a wide variety of music, films, and theater performances. Their Milk 'n Cookies Playhouse is specially geared toward the younger set; performances include musicians, mimes, and the artists in between. And yes, kids really do get milk and cookies after each show.

Hopper House, an art gallery in the childhood home of American painter Edward Hopper, frequently hosts local children's performer Sukey Molloy on weekends. And it's a great place to visit to see the art.

Play Time
Tired of shopping and eating? Head down Depew Avenue toward the Hudson River to take in the scenery and let your kids run around at the town's park and playground. There's ample parking, and besides a spectacular view of the water, there's shade, benches for parents to sit on, and a selection of slides, swings, and climbing things for kids of various sizes. And don't forget to bring breadcrumbs for the birds and ducks down by the water.

If You Go
Where: Nyack, Rockland County

When: Whenever the weather's good. Check out the town's famous street fairs on July 19 and October 11, 10am-5pm.

Parking: The village has metered street parking and a municipal lot next to Riverspace.

How to get there: Take the Tappan Zee Bridge. Take the first exit to 9W north. Turn right onto Main Street.

For more information: Nyack Chamber of Commerce: 845-353-2221 or www.nyack-ny.com.

---
Get Your FREE Indoor Activity eGuide!
---
More Articles
Be a good fellow parent and share this with a friend who would be interested
Local Sponsors



Teach Me At Home
866-893-HOME

Getting anxiety just thinking of this year's Commo...
See Our Directory