Delaney Acosta, DDS, opened Dr. Delaney Pediatric Dentistry, bringing the only pediatric dentistry office to Mahopac, New York.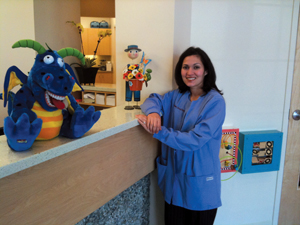 Delaney Acosta, DDS, believes parental involvement is key to optimal dental health for kids. "I take every case based on each child's needs. I sit down and listen to parents' concerns, set realistic goals of what they want to accomplish with each visit, and design a treatment plan specifically for that child and family," Dr. Acosta explains.
After practicing dentistry for six years, Dr. Acosta opened Dr. Delaney Pediatric Dentistry in Mahopac in May. Her practice, which is the only pediatric dentist office in the Mahopac area, offers children up to age 21 the highest caliber of dental care and uses the most advanced procedures and equipment available, including digital radiographs that limit the amount of radiation exposure when x-rays are needed. Dr. Acosta, who also works with patients with special needs, focuses on preventative dental care and even has a toothbrush station where children can learn proper brushing and flossing techniques.
With its smaller dental chairs, video games, toys, books, and televisions, the office is kid-friendly and encourages patients to relax, Dr. Acosta says.
Dr. Delaney Pediatric Dentistry is located at 888 Rt. 6 in Mahopac. For more information, call 845-628-3400 or visit www.mahopacpediatricdentistry.com.
See our comprehensive list of family dentists and orthodontists in the NYC area