Seven high school students from Rockland County, NY, were awarded $100 art scholarships from the Edward Hopper House Art Center.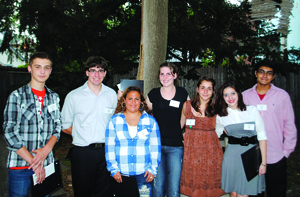 The Edward Hopper House Art Center in Nyack recently awarded $100 scholarships to promising young artists from around Rockland County. The artists, all high school juniors, were selected by their high school guidance counselors in consultation with the students' art, music, and English teachers. The awards recognized "artistic curiosity, a unique personal style and self-expression, [which] are hallmark traits of successful artists." In addition to the financial award, students received a certificate of recognition and a membership to the Edward Hopper House.
According to Hopper House spokeswoman Rachel Solomon, "Through this scholarship, the Edward Hopper House Art Center is acknowledging students who express an unquestionable curiosity for the arts. We sought students who are unique, creative and expressive. We hope that this award may actually spark a young person into pursuing a creative career path in life."
The Edward Hopper House Art Center is located in the birthplace and childhood home of renowned American realist painter Edward Hopper. The house is listed on the National Register of Historic Places and is considered an important influence on Hopper's art throughout his life.
Pictured are winners Juana Samayoa, Ramapo High School; Robert McEnery Jr., Suffern High School; Clara Liberov, Clarkstown North High School; Elizabeth Mayer, Tappan Zee High School; Saljooq Asif, Nanuet High School; Ryan McElligott, Pearl River High School; and Katya Anger, Clarkstown South High School.
The Edward Hopper House Art Center is located at 82 North Broadway in Nyack. For more information, call 845-358-0777 or visit www.hopperhouse.org.