Third grade students from Tappan Zee Elementary School in Piermont, NY, collected more than a half million can tabs during the school year and donated them to the Ronald McDonald House of the Greater Hudson Valley.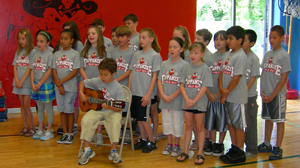 When they weren't in the classroom, students in Ms. Claire Brady's third grade class at Tappan Zee Elementary were on a mission: For the better part of the 2010-11 school year, they pulled and collected every tab they could find from pop-top cans at home and in the community. All together the students gathered more than 550,000 tabs, all of which were donated to the Ronald McDonald House of the Greater Hudson Valley.
Located at Maria Fareri Children's Hospital in Valhalla, the nonprofit Ronald McDonald House provides a "home away from home" for families of critically ill or traumatically injured children who are being treated at the hospital. The House will sell the donated tabs to a recycling center, and the profit will be used to help pay its operational costs.
On Wednesday, June 15, Ms. Brady's class was treated to a special assembly to celebrate their year of hard work. The class performed an original "pull tab" song, accompanied on guitar by one of their own classmates. Ronald McDonald House special events coordinator Janine Fiala then awarded each of Ms. Brady's students with a special certificate of achievement. Finally, Ronald McDonald himself entered the assembly to personally thank the students and staff for their hard work and successful efforts.