Enjoy fall in Rockland County, NY, with these two family-friendly events: Fall festival and apple picking at The Orchards of Concklin and Oktoberfest at Bear Mountain State Park.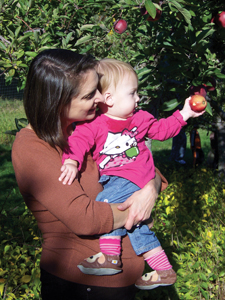 The Hudson Valley, and especially Rockland County, is blessed with beautiful scenery each autumn. We can see the leaves change color along the Hudson River and around the county's many parks and lakes. Fall festivals give us a good opportunity to get out, take a deep breath of fresh air, and enjoy the season before the weather gets too cold and the days too short. Here are a few outings you can share with your family.
Once again this year, The Orchards of Concklin will host apple picking and festive activities each weekend throughout the month. The folks at the Orchard tell us the warm, dry summer led to an early season for apples, with the harvest expected to be a good one.
This family-owned farm is one of the oldest in the state, operating in Rockland for over 200 years. Today, the Concklins cultivate about 100 acres of apples. Over the course of the apple-picking season, visitors can pick Red Delicious, Golden Delicious, Cortland, Empire, Macoun, and Rome varieties. Other popular varieties, including Honey Crisp and Wine Sap, are available in the farm store (pre-picked).
The first time my family went, we brought a stroller for my daughter, who's now a toddler. This year, my husband and I will leave the stroller in the car (it was more trouble than it was worth!) and carry our younger daughter in a pouch. Whatever ages you are, remember to wear sneakers and prepare for walking over rough terrain. And leave the family dog at home!
By the farm store, families can make their way through a corn maze and pick their own pumpkin. Children can enjoy inflatable activities including a mini-maze, bounce castle, and "Jurassic Park Adventure," with blow-up palm trees, dinosaurs, and a rock wall.
Info: Orchards of Concklin Apple Picking
Where: 2 South Mountain Road (Route 45), Pomona
When: Saturdays, Sundays, and Columbus Day, 10am-5pm.
How much: Pick-your-own-apples are $1.25 a pound
For more information: 845-354-0369; www.theorchardsofconcklin.com
Prefer paved pathways to rough terrain? Head north to Bear Mountain for the State Park's annual Oktoberfest. Take a walk around Hessian Lake, browse various vendor tables, and sample German food and beer. An entertainment pavilion with plenty of picnic tables is the location for German music and dancing.
While at the park, take a walk to the carousel pavilion for a ride on a bear, fox, raccoon, skunk, or other native New York wildlife. To see some real wildlife, stroll over to the park's small zoo, home to a variety of native animals that have been rehabilitated or orphaned, including some playful black bear cubs. The zoo is stroller-friendly (although a little hilly) and perfect for families with young children.
Info: Bear Mountain State Park's Oktoberfest
Where: Exit 19 off the Palisades Interstate Parkway or along Route 9W
When: Saturdays, Sundays, and Columbus Day through October 24, 12:30-5:30pm
How much: FREE; parking is $8 per car
For more information: 845-786-2701; www.nysparks.state.ny.us/parks/13/details.aspx