Rockland County's Stony Point Battlefield and Lighthouse will reopen to the public again this April. This historic landmark makes a great site for a spring family outing.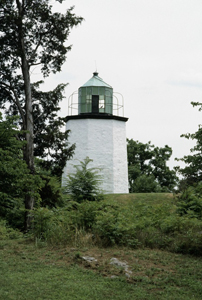 Spring is a time of symbolic rebirth, perhaps because the prospect of warm weather makes us crave the outdoor activities we've put on hold for months and a change in scenery as well as clothing. We feel refreshed and start looking toward summer. Additionally, daylight savings time gives us longer days in which to enjoy these "new" activities.
Spring also means the seasonal reopening of attractions throughout the area. Here in Rockland, one of the region's most historic sites - and a nice place just to take a walk in warm weather - opens to the public again this month. The Stony Point Battlefield and Lighthouse has commanding views of the Haverstraw and Stony Point Bays. This view, as well its location at the narrowest point of the Hudson River, enabled the site to play an important role in the American Revolution.
In July 1779, the American Corps of Light Infantry, led by General Anthony Wayne, surprised approaching British forces during a successful assault and captured the site. Visitors can see original weapons and other equipment used by the soldiers in a small museum at the location.
Perhaps due to the aforementioned geological attributes, the site is also home to the Stony Point Lighthouse, the oldest extant lighthouse on the Hudson. Built in 1826, it was in operation for 99 years before it was replaced by an automatic beacon.
While the site is open for limited hours now, during the summer months, the Palisades Park Conservatory, which runs the site, hosts a series of special events. Historical re-enactors fire Revolutionary-era canons and demonstrate weapons and other contemporary battlefield activities, such as making flint. Both daylight and evening tours by lantern-light are also offered of the lighthouse.
Info
Where: 44 Battlefield Road, Stony Point
When: General hours are Monday-Saturday 10am-5pm and Sunday 12-5pm. The museum is open Wednesday-Saturday 10am-4:30pm and Sunday 12-4:30pm. Lighthouse tours are Wednesday-Friday, 10am-3pm; advanced reservations required. There are no tours on weekends unless there is a special event. Soldier's Camp runs June-October, Saturday 11am-4pm and Sunday 1-4pm, staffing and weather permitting.
How much: FREE, except for special events
For more information: 845-786-2521; www.palisadesparksconservancy.org/historic/15/ or www2.lhric.org/spbattle/spbattle.htm
For more family activities and events in Rockland County, visit our Online Calendar.