At least three venues in Rockland County offer open gym time for kids to run - or crawl - and play with other children without Mom and Dad having to clean up.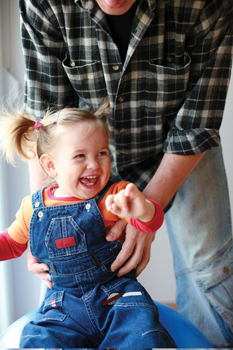 The Joseph T. St. Lawrence Community, Health, and Sports Center has activities for all ages. The Center welcomes toddlers and their parents to Pee Wee Playtime on Mondays and Thursdays, 10am-1pm. Children ages 2-4 can play in an inflatable bounce house, try their skills on a balance beam, toss basketballs into child-size hoops, play around with soccer equipment, even lift and lower parachutes, and run, roll, and tumble on gymnastics mats. A three-month pass, good from March through May, is $30 per child. Parents can also pay $5 per visit.
The Center also hosts Family Gym Time on Fridays and Saturdays, 5-7pm, and Sundays, 10am-2pm. Parents with kids up to 16 years old are invited to use the gym's basketball court. Plus, Adult Open Basketball is held on Mondays, Wednesdays, and Saturdays, 7-10pm, and Sundays, 8-10am and 2-9pm. Day rates for these programs are $5 for students and $10 for adults. The Center is located at 115 Torne Valley Road in Hillburn. 845-753-2324.
JCC Rockland invites parents with children up to 5 years old to mix with their peers at Mini Gym Playdates. The JCC sets up mats, balls, hula hoops, scooters, and other equipment for kids to enjoy while getting some exercise and working on their fine motor skills. Each session is hosted in the Kantrowitz Kids Gym by a member of the JCC's Parenting Group, so drop-ins won't ever feel lonely. As a bonus, there's a pleasant café in the JCC lobby where parents can have coffee before or after play-time. Mini Gym Playdates take place 3:30-4:30pm on Thursdays through April 14. FREE. The JCC is located at 450 West Nyack Road in West Nyack. 845-362-4400.
Finally, The Sports Place in Blauvelt hosts weekly Open Gym Friday Nights, 7:30-10:30pm, geared for ages 7 through teens. The $15 entry fee gives older kids access to indoor turf fields, a basketball court for pick-up games or just shooting hoops, inflatables, GloPutt mini golf, and one free game of laser tag. Each Friday night features a particular game such as dodgeball or hole-in-one challenge, with prizes for winners. Check out this month's Calendar of Events for March competitions. And parents who want to enjoy their own evening entertainment can drop their kids off at 6:30pm for an additional $5. The Sports Place is located at 600 Bradley Parkway in Blauvelt. 845-358-4263.


Also see: Our Online Calendar, for a complete list of family activities in Rockland County and the New York metro area