An annual winter highlight in Rockland County, NY, the Knickerbocker Ice Festival welcomes families this January to commemorate Rockland Lake's history with ice carving demonstrations and competitions, plus plenty of winter-themed activities for kids. Read on for the details.
Warm Up To Ice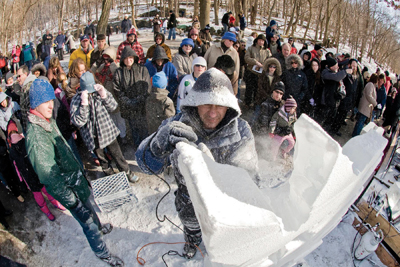 December 2010 came in with 60 degree days. By now, organizers of the Fifth Annual Knickerbocker Ice Festival are hoping that the temperature will be cold enough and skies clear enough for crowds to once again enjoy a celebration of all things cold and clear.
This special event commemorates Rockland Lake's history as the epicenter of the area's ice industry during the 19th century. Before the days of refrigeration, ice was cut from the lake in huge blocks and distributed throughout the area and even as far as New York City. Advances in ice preservation led to a transformation of the food industry, allowing meat, dairy products, and produce to stay fresh longer and therefore be transported greater distances.
By the turn of the 20th century, electricity was more prevalent, and by the 1920s, refrigerators were more affordable. According to a history of the industry written by Gretchen Weerheim of the Historical Society of Rockland County, "In 1924, the last of the ice was harvested from Rockland Lake and the clomping sounds of the horse-drawn wagons bearing deliveries passed into history."
Throughout the two-day Ice Festival, visitors can see spectacular ice-carving demonstrations and competitions. A KIDZ Ice Park invites children to play at bowling, build an igloo, and enjoy other winter-themed activities. A Historic Ice Gallery showcases archival images of the Knickerbocker Ice Company, namesake of the festival, appropriately "framed" in crystal-clear blocks of ice. Tours will be offered of Knickerbocker Ice House #3, an historic remnant from the 19th-century ice trade. Other attractions include guided nature walks, dancing, music, and a display of works by Artists in the Parks. There will also be a campfire and warming stations, including a heated tent where visitors can enjoy food and beverages provided by area eateries.
Details
Where: Rockland Lake State Park, 299 Rockland Lake Road, Congers
When: January 29, 11am to dark; January 30, 11am-4pm
How much: FREE; parking $6 per car
For more information: 845-268-3020 or www.knickerbockericefestival.com
Also see: Rockland County Calendar Highlights - January 2011
Our Online Calendar, for even more family-friendly events in Rockland County and the New York metro area.