The New York Renaissance Faire will take place in Tuxedo Park, weekends through September 26. Read on to see what's in store for kids and families at this exciting event.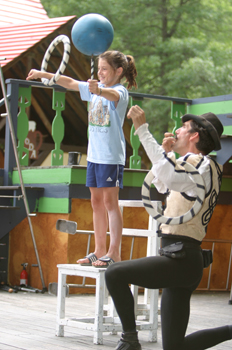 There's probably more humor than historical accuracy at the annual New York Renaissance Faire. But who really goes for the history? We recommend going for the fun of it!
The variety of attractions at the Faire is too wide to describe, but the extensive schedule - with entertainment options each half hour from 10:30am through 6:30pm - include plenty of family-friendly activities. There are wandering musicians, storytellers, jugglers, rope walkers, non-mechanical carnival games, and plenty of silly skits that make ample use of audience participation. Children can take in a "Birds of Prey" show and demonstrations of glass-blowing and blacksmithing. Meanwhile, rides powered by their human operators, who push, spin, and swing riders) lend a bit of reality to what a 16th-century festival may have been like.
Faire organizers are touting three new performances this year specifically for kids. "Chit-Chat with Do-Good the Kat" features the Lady Kat Ashleigh and the Lady Blanche-Dorothea-Rose, who introduce audiences to a few of the madcap villagers of the Shire. The variety show is said to offer "everything from musical guests to romantic advice and everything in between." "Dudley Mudd, Occupation: Foole" promises a performer who will walk barefoot on mousetraps and gladly accept mud pies in the face. Organizers promise Dudley will "do damage to your funnybone, without the use of any shame, dignity or good common sense." Finally, in a new show debuting at the Fool's Stage, children ages 4 and up are invited to meet a "terrible ogre" who is constantly misunderstood and hungry for company. Audience members help him defeat an evil witch and save an innocent girl and heroic woodsman (no doubt members of the audience).
Also new this year are camel rides, located near the children's maze.
Previous visitors to the Faire will surely remember Stewart & Arnold, the father and son knife-throwing team whose routine has enough slapstick and innuendo to entertain all ages. Other popular perennial attractions include a giant chess game featuring human "pieces," and jousting on horseback. This is followed each weekend by a knighting ceremony and Queen's Picnic.
Overall ambience at this annual event is provided by the permanent structures that comprise the village, also known as the Shire, in which the fair takes place. The Shire is populated by staff and volunteers in liberally-interpreted Renaissance attire. Adding to the atmosphere, many fair-goers dress in their own interpretations of period attire. And if all that isn't enough to keep you busy, check out the numerous shops and food vendors. A good time can surely be had by all.
Faire Info
What: New York Renaissance Faire.
Where: 600 Route 17A, Sterling Forest, Tuxedo Park.
When: Through September 26, weekends and Labor Day, 10am-7pm.
How much: $20, $10 ages 5-12, FREE ages 4 and under; discounted tickets available on the website. Preferred parking close to fairgrounds $5 per car; remote parking with continuous shuttle service FREE.
For more information: 845-351-5171; www.renfair.com.