Related: children, kids, ,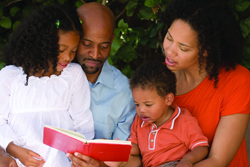 Prominent African-American literary figures will be the focus of a special Black History Month celebration at Hopper House Art Center. At "The Art of the Written Word," www.HopperHouse.org. hosted by Nyack resident Daryl Brownlee, founder of the group, Building A Broader Base, volunteers will read selections from artists including Nikki Giovanni, Paul Lawrence Dunbar, Amiri Baraka, and Langston Hughes. Local author, poet, and co-founder of Nyack Village Theater's "Verbal Lift" open mic, Cathleen St. Victor, kicks off the evening with an introduction, reading and discussion. All ages are welcome. Wednesday, February 25, 6-9pm. FREE. Hopper House Art Center, 82 N. Broadway, Nyack. 845-358-0774.
---
Get Your FREE Indoor Activity eGuide!
---
More Education Articles
How to Prevent a Homework Meltdown
Literacy Resources in the New York Metro Area
Literacy Resources in Nassau County, Long Island
Literacy Resources in Suffolk County, Long Island
Literacy Resources in Queens

Be a good fellow parent and share this with a friend who would be interested
Local Education Sponsors
See Our Education Directory