Rockland County, NY, has a variety of family-friendly ice skating rinks, whether they're seasonal or open year-round. Get all the details on these rinks, including hours, open skate times, admission and rental prices, and more.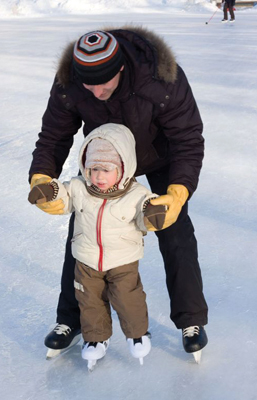 This November, the ice skating season begins in earnest at Bear Mountain State Park, with its wide variety of activities available there year-round - not to mention the beautiful landscape. Through early March, the park offers six hour-and-a-half long public skating sessions on Saturdays and five on Sundays, beginning every two hours starting at 10am. Additional sessions are held at 10am and 12pm on Mondays and Tuesdays and at 8pm on Fridays, weather-permitting. The rink is outdoors and abuts a hill where families enjoy sledding once the winter truly sets in and covers the ground with snow. $4 ($5 after 6pm); $3 ages 3-11 ($4 after 6pm); $2 non-skaters and seniors; free for children under 3. Skate rentals are $4. For more information: 845-786-2701 x266.
Also at the rink, the Hessian Lake Figure Skating Club has sessions every Saturday, Sunday, and holiday from 8:15-9:45am. For more information about joining, visit the club online. The Bear Mountain Hockey Club also has rink time. The club welcomes ice hockey enthusiasts as well as those seeking to learn how to play the sport.
The indoor Palisades Center Ice Rink is open year-round, immune to the weather, allowing skaters to leave behind bulky coats, hats, and gloves. In addition to a complex schedule of public skating sessions, the rink offers "stick time" and open hockey games, plus freestyle skate time for members of the U.S. Figure Skating Association. General session fees are $8; $6 seniors and children under 10; $4 skate rentals. Ten-visit punch cards and seasonal passes are also available at a discounted rate. For more information, call 845-353-4855.
Another indoor skating option for those who shun the cold is Sport-O-Rama, on College Road off Spook Rock Road in Monsey. The rink offers two sessions on Saturdays, at 1:30 and 9pm, November 6-March 5. Now through March 6, there is one session on Sundays at 2:55pm. And November 10-February 23, additional sessions are at 3:30pm and 4:10pm. $7 weekdays; $8 weekends; $8.50 holidays; skate rental
is $3. Ice hockey clinics are held on Sundays and Mondays. League play is also available for a wide
variety of age groups. For more information, call 845-356-3919
And if your child has a winter birthday, consider a skating party. Each of these venues offers birthday party packages for children, with information available on their respective websites.