Escape 2 IMAX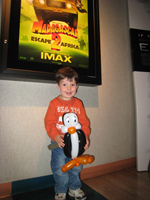 On November 1, approximately 340 parents and children from Rockland's People to People volunteer group, and families from the Hudson Valley and New Jersey chapters of Make a Wish, enjoyed a free sneak preview of Madagascar: Escape 2 Africa at the IMAX Theatre in the Palisades Center in West Nyack. Children who attended the event received Madagascar 2 limited edition hoola hoops, as well as balloon animals and face masks of Madagascar characters, in addition to having Madagascar characters painted on their faces. Madagascar: Escape 2 Africa, presented on the six-story IMAX screen, enthralled the audience with larger-than-life movie images and state-of-the-art digital surround sound.

Rockland Rocks for Families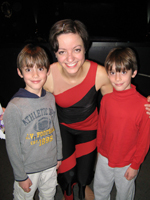 The annual Fall for Music event, sponsored by Riverspace Arts as part of its "Milk & Cookies" series, was held on Saturday, November 15. Over 300 parents and children in attendance enjoyed entertainment, including juggler Jen Slaw, and kids' rock band "The Elephant Stompers," which opened the show with hard rock versions of classic nursery rhymes.
After the performances, community volunteers served milk and cookies and sold raffle tickets, raising more than $2,000. The funds will go to the Rockland Parent-Child Center, a non-profit organization that for over 20 years has provided family support and helped address the individual challenges, circumstances, and needs facing parents with young, school age and adolescent children. The Center provides events and programs, including play and support groups, parent education workshops, and community speaker events, that help create meaningful relationships between parents and their children.
For information about Rockland Parent-Child Center: www.rocklandparentchild.org. For information about Riverspace: www.riverspace.org.
Halloween Fundraiser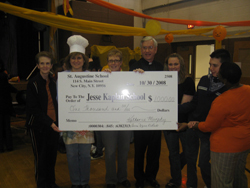 It was more than just Halloween fun when the Home School Association at St. Augustine School in New City sponsored its annual Halloween Carnival on October 30. This year, the event raised $1,000 to benefit the Jesse Kaplan School, part of BOCES in Bardonia. Hosted by the eighth grade, it was truly a cooperative event. Participants enjoyed games, raffles, and refreshments, and many students and their families donated cash or prizes.
Jesse Kaplan provides special education for students with such conditions as cerebral palsy and mental retardation, and for those using wheelchairs for other reasons. Because there are some students who have photosensitive diseases, the school needed to install an awning over its playground. When the community at St. Augustine found out, they decided to help raise money to defray the cost. After their gift to Jesse Kaplan, the remaining funds will be used for a much-needed update of technology at St. Augustine.