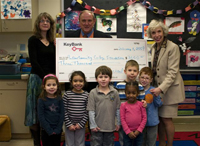 New Childcare Center Receives Donation
Rockland Community College received a $3,000 donation from KeyBank to benefit its Campus Fun & Learn Child Development Center, located in the new Theresa Morahan Simmons Center for children and families. The center will provide care and education to children 6 weeks-12 years old through activities in art, music, language, and more. It will accommodate 58 fulltime children, with the potential for more on a part-time basis, in addition to 24 after-school and evening openings, allowing parents to attend classes while their children are watched. Rockland Community College students who enroll their children will qualify for scholarships and subsidies for childcare tuition. The center will also allow education and psychology students the opportunity to gain experience working with young children. For more information about Campus Fun & Learn, contact Kyle Miller at 845-574-4561 or [email protected] For more information about Rockland Community College, visit www.sunyrockland.edu.

---

Top Honors for Hebrew Day School

Reuben Gittelman Hebrew Day School received 28 awards at the Rockland County Science, Inventions & Technology Exposition, held in North Rockland High School on March 1. Multiple awards were received by 17 Reuben Gittelman Hebrew Day School students and four alumni, who were awarded an additional seven honors.

Gittelman's science program follows an accelerated New York State curriculum, which begins for students starting in Pre-K. As students conducted independent research, they were mentored by Gittelman teachers Frank Schlogl, Sheila Ornstein, Arnie Garfin, and Sara Ludwig. Kudos for a job well done to all who participated and took home awards.