News and announcements for Rockland County: Find out what's going on in your area this month.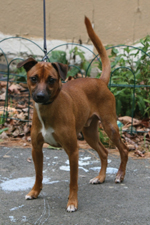 Adopt a Friend

Hi-Tor Animal Care Center, Inc., the only animal shelter serving Rockland County, is celebrating Support Your Local Animal Shelter Month by lowering its adoption rates for cats and dogs in need of a home.
The center currently has about 60 cats and 35 dogs available for adoption. Adoption fees are normally $200 for dogs and $125 for cats. For the month of November, cats and kittens are available for adoption at two for the fee of one; cats 5 years of age and older are half the usual adoption fee. Additionally, dogs 5 years of age and older can be adopted for only $75. Adoption fees include all required shots, worming, and spaying/neutering.
Founded in 1971, Hi-Tor handles about 3,000 animals per year at its facility in Pomona. In addition to dogs and cats, they also house smaller animals like gerbils, rabbits, hamsters, and guinea pigs, which carry an adoption fee of $10-15. To see pictures and information on all of Hi-Tor's animals available for adoption, visit www.hitor.org/pages/adopt.
Hi-Tor Animal Care Center, Inc. is located at 65 Firemen's Memorial Drive, Pomona. Open for adoption seven days a week: Monday-Saturday 8:30am-5pm; Sunday 12-3pm. For more information, call 845-354-7900 or visit www.hitor.org.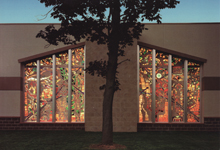 OJC Celebrates Golden Anniversary
The Orangetown Jewish Center, a conservative egalitarian congregation serving Rockland and Northern Bergen Counties, celebrated its 50th anniversary this fall with community activities and a gala weekend. On October 27, children in the OJC Religious School buried a time capsule, to be opened 25 years from now. Students also planted tulip bulbs to mark the capsule's burial site on October 28.
The OJC kicked off its gala weekend Friday, November 6, with a community dinner and services. Several OJC members were honored for their work in the community during morning Shabbat services on Saturday, November 7, including Bernie Schiffmiller, Leslie and Allen Levinson and family, and Kim Lori and Howard Sokol and family. OJC Alumnus Neil Berg and company performed 100 Years of Broadway on the evening of the same day. The weekend culminated with a gala birthday party on Sunday, November 8, as well as an auction, with proceeds going to the OJC.
The OJC community includes 530 member families, says Rabbi Craig Schiff, OJC's spiritual leader, and the center strived to make sure all generations of the synagogue could be part of the celebration. "The purpose is to celebrate the history, dreams, and vision of the founders of our community," he explains, "and to inspire others to perpetuate that vision for the next 50 years."
The OJC is located at 8 Independence Avenue in Orangeburg. For more information, call 845-359-5920 or visit www.theojc.org.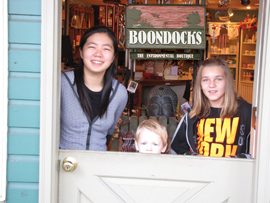 Design Winners Wear It Proudly
Three local Piermont children won a variety of prizes this fall after participating in the Boondocks-of-Piermont Summer T-Shirt Design Competition. Olivia Woo, 16; Maximilian Koenig, 3; and Alison Martini, 12 (pictured, from left to right) were the winners chosen from about 15 contestants ages 3-19.
The contest was envisioned and organized by Lynn Boone, owner of Boondocks - Piermont's Environmental Haven, an environmental shop and gift boutique in Piermont. Boone asked children to create their own original T-shirt design using the summer season as inspiration. "Kids love to express themselves," Boone says, "And everyone loves summer. It was a lot of fun."
Boone asked Lisa Grubb, artist at Happy Dog Gallery down the street, to judge the contest, and separated entrants into three age categories: under 4, 4-12, and 13-19. The winning children were awarded five T-shirts each bearing their original design, a certificate printed with their name, giveaways and discounts at local stores, and the chance to participate in a national T-shirt design competition.
"They were all winners because they chose to do it," Boone says of the entrants. "It was very difficult to pick just three. Next year will be even harder."
Boondocks is located at 490 Piermont Avenue in Piermont. For more information on the competition, call 845-624-1645 or email [email protected].