Despite freezing temperatures, snow, and overflow parking that required visitors to park down the road and take a shuttle bus (which required waiting in said cold and snow), more than 5,000 people came out in December for the grand opening of the new Jewish Community Center (JCC) Rockland. The modern, 135,000 square foot facility is located on a 15-acre campus on West Nyack Road. It replaces a smaller JCC facility that opened its doors 19 years ago.

The new center features a state-of-the-art gym, classrooms, a senior center and café. But a major focus is definitely children — with brightly-colored rooms and child-friendly furniture plus a long list of programs sure to meet the interests of every child. Whether your child is an artist, athlete or academic — or even autistic — it's fair to say the JCC Rockland has something for them.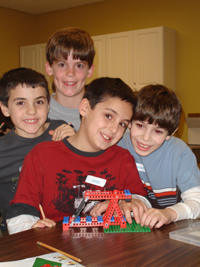 Since programs began on January 2, more than 150 children, babies through high school age, have enrolled in activities that run a wide gamut of offerings, according to program director Robin Rosenfeld. Some of the most popular programs offered have been after school enrichment classes for grades K-5; LEGO Engineering for grades 3-5; Jedi Training, safe sword-fighting techniques using a light saber for grades K-2; Lights, Camera, Acting! drama games and improv exercises for grades K-2; Abracadabra, a mix of science and magic, for grades K-2; beginning tennis for grades 3-5; Cartooning for grades K-2 and 3-5; Ceramics, playing with mud for grades K-5; Gymnastics and Dance; and Vacation Sensation (school break programming).

Children as young as 3 months are introduced to rhythm, scales and movement in a music class, one of several programs that invite parents or other caregivers to participate with babies and toddlers. At the other end of the age spectrum are dedicated teen fitness classes, aimed at grades 9-12. Teens can pick from kickboxing, spinning, weightlifting and even a "beginner hip hop workout".

Social programming is also offered for special needs children and their families. "We have a Sunday Funday Special Friends program for children 3-12 on the Autism Spectrum. We are offering a recreational program allowing kids to utilize their social skills learned through school or other programming," explains Rosenfeld. "There is a concurrent session for parents with clinicians while the kids are in program. In the future, we hope to be able to offer adaptive sports after-school classes for children and teens."

On the near horizon are a variety of camps divided by age groups. Seven-week sessions to be held this summer will serve children in pre-K through eighth grade. While younger children will meet at the main campus in West Nyack, older campers will attend the JCC Country Day Camp at the Henry Kaufman Campgrounds in Pearl River, which offers a summer camp staple — swimming.

The JCC plans to install a swimming pool as well as offer full-day child care, but the timeline remains open. For now, babysitting services are available while parents use the center's fitness facilities.

Reflecting on the center's older, smaller facility, Rosenfeld notes: "We are now a full-service facility, offering fitness, but also many cultural, enrichment and recreational classes/programs for all age groups. Having more space enhances our programming capabilities, and having dedicated space for classes and programming allows us to offer more than before."

The new JCC Rockland is located at 450 West Nyack Road in West Nyack. For more info: 845-362-4400; www.jccrockland.org.