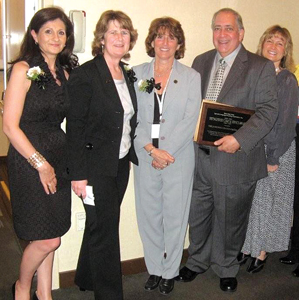 New City's Jawonio Cranio-Facial Clinic, a pro-bono center that assists families in finding treatment for children with craniofacial abnormalities, was recently awarded the Distinguished Clinical Service Award by the New York State Speech-Language-Hearing Association (NYSSLHA). The award, which recognizes excellence in the field of speech-language pathology and audiology, was announced at NYSSLHA's 50th Annual Convention in April.
Jawonio Cranio-Facial Clinic comprises a group of renowned experts, including Drs. Terry Sobler, Ian Sobler, Ed Fisher, Varsha Reddy, David Staffenberg, Anthony Pavone, and David Caponigro, as well as pediatric speech physiologist Etoile LeBlanc, CCC-SLP. The clinic serves patients suffering from various physical anomalies, such as cleft palate and Velo-Cardio-Facial Syndrome. Specialists assess individual cases, recommend appropriate courses of action, and refer patients to local medical professionals who can aid treatment.
"The Distinguished Clinical Service Award speaks to the quality of our service and our outreach to the community," says Christine Henze, MS/CCC, supervisor of On-Site Services. Winning was a thrill, she says, adding that the most rewarding aspect of her job is working with such a dedicated group. The clinic truly has a "blue-ribbon team," Henze says, and all of the members are donating their time and talent to meet the needs of families in the community.
Jawonio's 45th annual dinner-dance, scheduled for October 23, will honor the cranio-facial team for its accomplishments. "The clinic doesn't just change smiles," says Jill Warner, Jawonio CEO. "It changes lives."
Jawonio Cranio-Facial Clinic is located at 260 North Little Tor Road in New City. For more information, call 845-708-2000, ext. 1293, or visit www.jawonio.org.