Supporting What's Good for the Children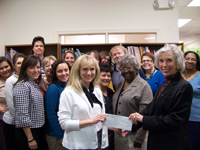 In 2009, Child Care Resources of Rockland (CCRR) helped nearly 1,700 families locate educational services. It offered training, support and resources to child fcare providers as well as public and private schools, and actively promoted the value of quality child care to both parents and public officials. But more needs to be done. Last year, some 30 child care programs in Rockland County closed due to lack of funding, displacing over 600 children according to CCRR.
Recognizing the challenges ahead and the important work CCRR does in advocating for children, KeyBank recently presented a $3,000 check to the Spring Valley based agency, whose mission is to promote, support, and enhance the healthy development of all children. The money will be used to support the group's advocacy efforts.
As part of their core mission, CCRR representatives meet with policy makers and policy enforcers and encourage them to think, "Is it good for the children?" before making decisions that will affect them, according to Jane Brown, Executive Director of Child Care Resources of Rockland.
"We must do a better job of caring for and educating our young children, Brown said in a statement released by CCRR. "Child care providers are among the lowest paid workers in our society yet they are entrusted with our most vulnerable citizens-our children."
KeyBank, a subsidiary of KeyCorp (NYSE: KEY), is one of New York's largest financial services companies, with one of the largest statewide networks of branches and ATMs and is a leader in community involvement.