Rockin' Tunes for Tots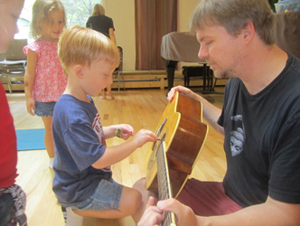 More than a decade ago, David Weinstone founded a children's class called Music for Aardvarks in New York City. Since then, Weinstone's music has spread across the country and has been featured on national programs like Nick Jr. This fall, Luke Montgomery brought the program's popular tunes to Rockland County when he founded Kids Rock U.
As director, Montgomery serves as teacher, guitarist, and lead singer of the program, which caters to children ages newborn to age 5. Kids sing, dance, and play instruments while Montgomery performs live music. "The goal is to have as much fun as you possibly can," Montgomery says, adding that kids learn important developmental skills like dexterity and coordination through class activities. The class also encourages parents to participate. "If kids see their mom or dad singing and dancing, they'll jump in too," says Montgomery, who links music to creative expression. "Any opportunity to express themselves musically is an invaluable thing for a child to have."
Registration is now open for the winter semester (first class is free). Classes are held at the Nyack Center and JCC Rockland, with more locations planned for the future. For more information: 917-589-7364 or www.kidsrocku.com.