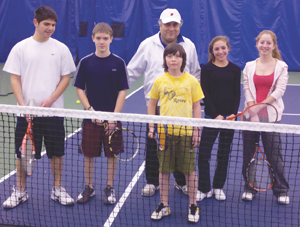 Match Point Tennis Club, an indoor tennis facility that opened in Orangeburg in October, is currently enrolling for its spring programs and gearing up for its first summer camp season.
The facility, which features six US Open-style tennis courts, offers tennis training for all ages, from beginner to tournament-level players, including individual and group lessons. The club was recently sanctioned by the United States Tennis Association (USTA) and will begin to hold tournaments in the next few months, says co-owner and director Nausher Madan, who played tennis throughout his native India as a youth, claiming the country's Junior National Champion title and serving as a member of the Indian Davis Cup team.
The club's first summer camp, for children ages 7-18, will run for 10 weeks this summer beginning in late June. Both full-day and half-day options will be available, and participants can sign up on a weekly or daily basis, says Madan.
The facility is also available for both children's and adults' birthday parties, which include tennis lessons for party guests.
Match Point Tennis Club is located at 39 Ramland Road South in Orangeburg. For more information, call 845-359-0031 or visit www.matchpointny.com.