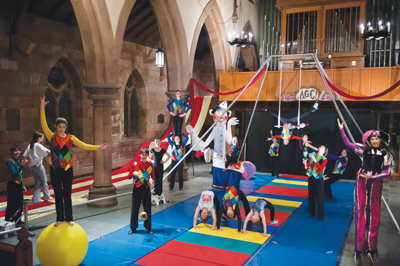 Real estate agents like to repeat the mantra, "Location, location, location," knowing how much our setting affects our perception of things. And the Amazing Grace Circus has chosen a truly unique location for a special performance this month. The Nyack-based performing arts company will present a Medieval Circus Festival at the 150-year-old gothic cathedral of Grace Episcopal Church in Nyack.
The historic church welcomes visitors with two huge oak doors that open into the sanctuary. According to a history of the building, the central area is dominated by "stone pillars supporting stone arches that in turn support great arches of oak that rise forty feet to the peak of the building." The carved oak pews are copied from early Saxon benches found in Surrey, and the memorial windows are styled after those in Tintern Abbey.
In that dramatic setting, the circus festival will feature amazing feats by young performers led by instructors from Big Apple Circus, Acrobrats Inc., and Lux Entertainment. Interactive entertainment will include comedic jousting, acrobats, aerialists, artisans, crafts, face painting, period music, and food. The show will be directed by guest ringmaster Bishop Catherine Roskham, from St. John the Divine Cathedral in New York City.
Proceeds from the event will benefit the community outreach programs of Grace Episcopal Church, including services that feed and provide shelter to the homeless in Rockland and NYC, and the safe youth and educational initiatives offered by Amazing Grace Circus.
Details
What: Medieval Circus Festival
When: May 21, noon to 6pm. Circus performances are at 1:30pm and 3:30pm in the nave of the church; comedy joust scheduled for 2:30pm.
Where: Grace Episcopal Church, 130 First Avenue, Nyack
How much: $35, children $15, under 3 FREE
For more information: 845-348-8740
Also see: Rockland County, NY, May Calendar Highlights: Activities for Families
Our Online Calendar, for even more upcoming events in Rockland and the New York metro area