On April 26, more than 200 students from George W. Miller Elementary School and Highview Elementary School in Nanuet, NY, were asked to sit down, close their eyes, and picture what the best playground in the world would look like if they were in charge of its design. The response was enthusiastic, to say the least, and the students' ideas -- including a zip line and rock wall -- were then sketched before their eyes into a plan for the next Highview Community Playground, the construction of which will restore a beloved landmark to the Nanuet community.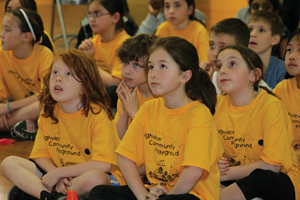 In 1990, community volunteers raised more than $60,000 to build the first Highview Community Playground -- a wooden structure that became known fondly to local kids as the Castle Playground -- at Church Street and Highview Avenue. But after 20 years of happy swinging, sliding, and bouncing, the structure was dubbed unsafe and the playground was demolished last November. In January, many of the original volunteers, along with the now grown-up children they built the playground for, banded together to form The Highview Community Playground Steering Committee, with the mission to restore Nanuet's lost castle for the next generation. If they could build it once, they thought, they could build it again.
This time, the committee isn't taking any chances: They plan to use materials guaranteed to last at least 50 years. But this guarantee comes at a price - costs are projected between $175,000 and $225,000. With a construction date set for Columbus Day weekend, the committee has planned a number of fundraising events in the upcoming months, including a 5K Run/Walk and Children's Fun Run at Nanuet High School on June 5.
For details on upcoming fundraising events and more information on how you can get involved in the project, call 845-627-555 or visit www.highviewplayground.com.