These Rockland County, NY, businesses are offering new services for local kids and families - check it out!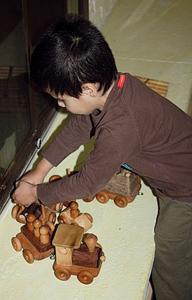 Child Care Au Naturel
Blue Bird Natural Child Care hosted its grand opening January 2. The event, which featured entertainment and refreshments, also served as an open house for those interested in learning more about the center's all-natural, media-free approach to child care.
Blue Bird is the only New York state licensed media-free daycare in Rockland County. The center contains no TV, video games, or even radios; instead, all entertainment is live, and children are provided with natural, handmade toys, including a large wooden kitchen. "It's a calm and peaceful place," says Alex Entelis, the center's designer and administrator. "There's less artificial stimulation and more hands-on play."
In keeping with its natural approach, the center offers a vegetarian, all-organic menu. Its backyard, which stretches for 1/3 of an acre, contains a garden, koi pond, and a new playground where children spend time every day, no matter the weather, Entelis says. "Children learn to play and connect with all weather environments," he explains. They're also encouraged to bring their outdoor findings inside, where they can engage in nature-related art projects.
The center is owned by Janet Entelis, who has more than 20 years teaching experience. It caters to children ages 2 and up and boasts a one-to-six teacher-to-child ratio.
Blue Bird Natural Child Care is located at 5 Balmoral Drive in Chestnut Ridge, NY. For more information: 845-598-5970 or www.bluebirdchild.com.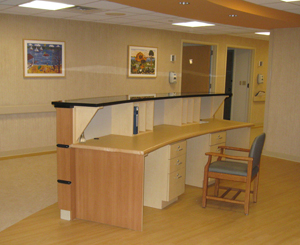 Designed with Kids in Mind
In October, Nyack Hospital opened the doors to its newly renovated and remodeled Pediatrics Unit. The renovation added flat screen televisions and gaming systems to patient rooms, where parents may stay with their child during hospitalization, along with a playroom that contains "all of the latest electronic gadgets," according to a press release by the hospital. The aesthetics of the unit have also been enhanced through a generous donation of folk-art paintings by Douglas Gitter.
"This renovation raises the quality of our facility to meet the quality of care that we provide at Nyack Hospital," said John Volanto, the hospital's vice president of support services, at the opening ceremonies.
"I am delighted that our youngest patients will be cared for in this beautifully renovated unit," added Mary Ann Clay, RN, nurse manager in the pediatrics unit. "We have a dedicated team of caregivers whose efforts provide the best possible experience for our patients and their families."
Nyack Hospital is located at 160 North Midland Avenue in Nyack, NY. For more information: 845-348-2000 or www.nyackhospital.org.
Food-Forward Families
The Food Evolution, a family-focused nutrition and cooking education center, opened in Bardonia this past August. The center offers cooking and nutrition classes for all ages, private health counseling, special event packages, and a recently added field trip program.
Founder Diane Hoch, CHC, a mother of three, has been an advocate for better food in schools for the past decade. "When I went into schools and saw what they were feeding kids, I thought 'Oh my gosh, we're in big trouble,'" Hoch recalls. It was then she went back to school for a degree in integrative nutrition and became a nutritional health counselor. But it was her passion to help kids and families that spurred her to open The Food Evolution. "I want to teach people about cooking in their own home. I believe we need to empower and educate parents to cook and feed their families wholesome food."
The center uses all organic food, much of it from local farms, and aims for a non-intimidating atmosphere. "The kitchen is the heart of the home," Hoch says. "It's more than just food; it's sitting down at the table and sharing a meal that you've put your energy and love into. You don't get that from packaged foods."
Located at 295 Route 304 in Bardonia, NY. For more information: 845-507-0260 or www.thefoodevolution.com.