These businesses in Rockland County, NY, have just announced new programs for local kids and families.
Party Like a Sports Star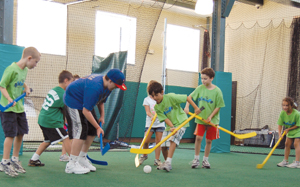 Vision Sports Club, a family fitness center in Pearl River, began offering Sports Zone Birthday Parties this summer.
A basic party package includes an hour and a half of activities for up to 15 guests. The birthday boy or girl can choose two activities from a list that includes dodgeball, kickball, lacrosse, soccer, and an obstacle course. Between activity sessions, guests take a break in the party room with pizza, drinks, and birthday treats. "Our parties are structured and fun," says Kristan Montana, the club's general manager. "We have a great facility with lots of open space, an experienced staff, and a wide variety of brand new equipment."
Encompassed in Vision Sports Club's 45,000-square-foot facility are an adult gym; a supervised Youth Fitness Zone for kids ages 8-15 that includes everything from treadmills to Wii Fit; a VisionPlex Cardio Cinema, where members can exercise while watching a feature film or sporting event on a movie theater-sized screen; and a Sports Zone with several batting and pitching tunnels and turf fields, which the club rents out to local sports teams. The club also offers introductory sports classes for kids ages 2½ and up.
Vision Sports Club, 37 West Jefferson Avenue, Pearl River. 845-517-1400; direct party line: 845-517-1466.

Elementary Education
Elementary Academics, a new educational center in New City, opens its doors to students ages 3-12 this month. The center provides instruction in primary reading, math, and writing in a group setting, says owner Alice Wagner. Class sizes range between two to four students and are held twice a week. "Our goal is to target gaps in learning," Wagner says, adding that instruction complements students' formal school education and prepares them for standardized testing. The center's mission, she says, is to provide instruction in early learning that will improve students' skills and confidence for their secondary education.
In addition to instruction and test preparation in the subjects mentioned, classes include educational games and activities that enhance learning, Wagner says. The center sets itself apart from others, she says, by its highly qualified teachers and group instruction approach. "Kids like to come in groups," Wagner says. "We do a lot of activities to make [learning] more fun, and they enjoy working along with other kids."
Elementary Academics is located at 16 Squadron Boulevard (next to the New City Library) in New City. For more information, call 845-708-5349.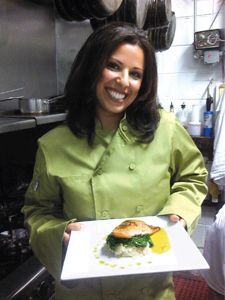 Cooking Up a Party
Angela Rivera, known as the Healthy Chef Lady in several after-school enrichment programs around the county, began offering cooking-focused birthday parties through MyCookingParties.com in August.
"The kids gave me the idea," says Rivera, a mom of three and natural gourmet chef who graduated from the National Gourmet Institute in 2009. "The students I was teaching after school were very receptive and said, 'Can you come to my house for a birthday party?'" Inspired, Rivera began offering in-home birthday parties that focus on health-conscious cooking.
Parties are two hours long, and customers can choose from four different themes, including Pastry Chef, Crazy Cupcakes, Little Italy Pizza, and U Me Sushi. Each theme incorporates healthy eating practices, Rivera says. For example, during a Pastry Chef Party, each child makes a mini cake to take home. Instead of using regular food coloring for the icing (which contains chemicals), kids learn how to use natural juices from vegetables like beets and oranges to get the same result.
Rivera also recently began offering MyCookingParties in local schools. Her party packages can be transformed into educational, hands-on classes for students, including those with special needs.