These three Rockland County, NY, businesses are now offering new services to local kids and families. Get the details below.
A New Home for Family Vision
By Kaitlin Ahern

Family Vision & Learning Center, a full-service optometry practice, moved to a new, larger location in mid-August. The center remains in Suffern, just down the block from its original location on Executive Boulevard.
The larger space contains a more spacious waiting area, including a separate waiting area just for kids, with toys, books, and activities. The center also boasts a larger vision therapy room and additional rooms for vision testing, individual therapy, and contact lens fitting.
In addition to basic optometry services, the center offers in-depth testing and therapy for a wide variety of cognitive and perceptual deficiencies, from stress-related vision problems like Computer Vision Syndrome to learning difficulties like ADD and dyslexia. About 80 percent of patients who receive this vision therapy are children, says Michal Luchins, O.D., who specializes in vision therapy and developmental optometry and is certified in early childhood education. Dr. Luchins offers a more thorough eye exam than most optometrists to pinpoint cognitive and perceptual deficiencies. "You can't tell by just looking at someone if they have a visual deficiency," Dr. Luchins explains. "We evaluate which areas are deficient, then work on the underlying cognitive skills so they don't have to compensate educationally."
Located at 12A North Airmont Road, Suffern. 845-369-3235. [email protected]. optometrists.org/DrLuchins.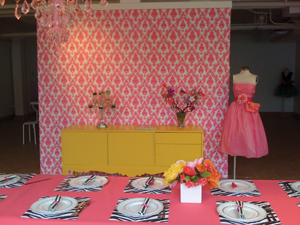 Just for Girls
By Kaitlin Ahern
The Pink Chandelier Design Studio opened September 25 in Nyack. The studio offers high-end birthday parties for girls and will begin offering after-school and Mommy and Me classes in January.
Owner Julie Murray began designing fashion birthday parties in 2008 at the Rockland Center for the Arts, after working as a wedding and events designer for more than 10 years. Murray opened Pink Chandelier soon after because she felt passionately about giving girls of all ages a place to be themselves and have fun. "I started this because I wanted to create a beautiful place girls can come and be inspired, where they're able to apply their creativity and enjoy being a girl," Murray says. "Our programs are designed to help support self-esteem and celebrate individuality."
Signature birthday parties include a Fashion Design Party where guests sketch their own designs and bring them to life on mannequins using materials like tissue paper, flowers, and ribbons; and a Cake Couture Design Party, where girls work with a professional cake designer to craft confections using ingredients like fondant and buttercream.
In January, the studio will offer a full schedule of classes and workshops for girls of all ages, including drama, design, and language programs.
53 Hudson Avenue, Nyack. 845-675-7474. www.pinkchandelierdesignstudio.com.

Massage Your Worries Away
By Alexandra Budd
The latest installment of Massage Envy Spa in Nanuet this November, offering a full range of massage therapy and facial options. Massage Envy, unlike most salons and spas, provides a customized massage experience, flexible scheduling, and affordable prices.
This national franchise dedicates itself to providing professional and reasonable therapeutic massage services at convenient times and locations. A great way to relieve stress, massages and facials are perfect for busy parents looking to focus on their health and wellness. For mothers-to-be, Massage Envy recommends pre-natal massages for relaxation. The spa offers a monthly program that allows members to enjoy one massage per month, with additional massages at a discounted price.
With more than 600 locations nationwide, membership is ideal for those who travel. New members are eligible for special introductory rates at Nanuet's new location.
Massage Envy Spa is located in the Rockland Plaza Shopping Center, Route 59W and Middletown Road, in Nanuet. 845-623-3111. [email protected]. www.massageenvy.com.