These Rockland County, NY, businesses are offering new programs for kids in the area. The Rock has opened a birthday party venue; Little Scoops is moving; and Master Jung & Master Yu Traditional Taekwondo has a new, more advanced program for talented teens.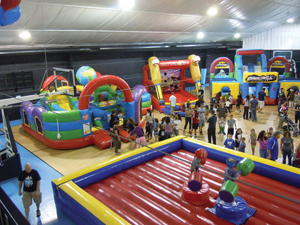 Bounce Away on Your Birthday
The Rock Sports & Entertainment Complex opened a new party business called Bounce City in September. Bounce City is housed in the same complex as The Rock and offers additional party packages.
At 16,000 square feet, Bounce City houses two bouncy rooms with a range of inflatables, including a 23-foot inflatable slide, says owner James Miller. In addition to inflatables, these rooms can accommodate obstacle courses and other activities. Partiers also have access to two 1,000-square-foot party rooms, each with a flat screen TV. Guests can also choose to incorporate arcade time into their party, Miller says. Party packages at Bounce City are all-inclusive and include snacks, pizza, and an ice cream cake.
The Rock, opened last year, also offers birthday party packages that revolve around sports. The facility accommodates "any sport you could imagine," Miller says, from basketball and soccer to dodgeball and wiffleball, and coaches are always on-hand. Guests can also combine party packages to feature sports activities at The Rock and bouncy time in Bounce City.
The Rock and Bounce City are located at 21 Pralle Lane in Bardonia. For more information: 845-507-0046 or www.bouncecityny.com.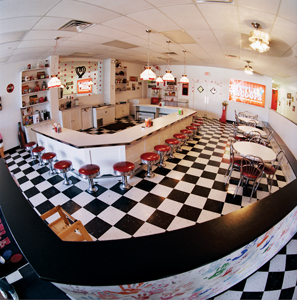 New Digs for Little Scoops
Little Scoops, a children's birthday party venue and eight-year institution in Rockland county, is moving about two miles south of its original Blauvelt location to a new storefront in Orangeburg. Owner Michelle Violetto anticipates the move will be complete by late November, and the Orangeburg location will host a grand re-opening sometime after Thanksgiving.
The new Little Scoops will continue to host children's private birthday parties in a retro, 50s-themed ice cream parlor setting. Party packages are all-inclusive, Violetto says, and include age-appropriate music and dancing, games, and activities; pizza and beverages; and make-your-own sundaes. Packages can be personalized with themed decorations and dietary substitutes as well as add-ons like face painters, balloon twisters, and more. The new location will also offer an expanded selection of ice cream cakes (for parties or take-out) and will accept balloon orders for pick up or delivery, Violetto says.
In March 2011, Little Scoops' Orangeburg location will open to the public as a retail ice cream parlor, Violetto says, serving everything from milkshakes to ice cream sundaes.
New Location: Town Plaza 2, 500 Route 303, Orangeburg. For more information: 845-365-4500 or www.littlescoops.com.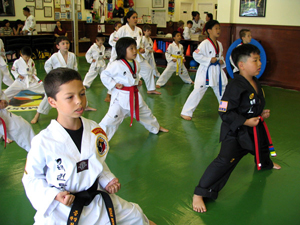 Taekwondo Training for Talented Teens
Master Jung & Master Yu Traditional Taekwondo will begin a new Elite Training Program this month for children and teens interested in competing in taekwondo on a regional, national, or international level. The program also gives students the opportunity to train hard enough to obtain college scholarships for competitive taekwondo, says Master Leopold, an instructor at the school. Currently, the program offers weekly training sessions and is open to ages 11 and up.
The program is headed by Master Jung, who was named Head Coach of the U.S. National Collegiate Taekwondo Team. He attended the 11th Annual World Collegiate Taekwondo Championship in Vigo, Spain, this past June, where he trained the top collegiate candidates.
"This is a special program for children and teens that are really dedicated to training in taekwondo," Master Leopold says of the Elite program. "[The students] train on a different level. They have to make a long-term commitment, and the training is longer and more intense."
Master Leopold estimates that about 90 percent of colleges have taekwondo teams, including Cornell, Harvard, and Yale, to name a few. In addition to possible scholarships, students may also receive college credit for participation in these classes.
Master Jung & Master Yu Traditional Taekwondo is located at 70 N. Main Street in New City. For more information: 845-638-4000 or www.mytaekwondolife.com.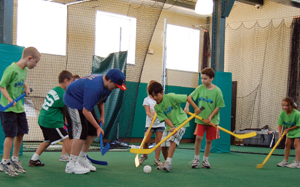 Party Like a Sports Star
Vision Sports Club, a family fitness center in Pearl River, began offering Sports Zone Birthday Parties this summer.
The center can accommodate parties of all sizes. A basic party package includes an hour and a half of activities. The birthday boy or girl can choose two activities from a list that includes dodgeball, kickball, lacrosse, soccer, obstacle courses, and more. Between activity sessions, guests take a break in the party room with pizza, drinks, and birthday treats. "Our parties are structured and fun," says Kristan Montana, the club's general manager. "We have a great facility with lots of open space, an experienced staff, and a wide variety of brand new equipment."
Encompassed in Vision Sports Club's 45,000-square-foot facility are an adult gym which includes a Cardio Cinema, where members can exercise while watching a feature film or sporting event on a movie theater-sized screen; a Youth Fit Zone for kids ages 8-15 that includes everything from treadmills to Wii Fit to Youth GroupX classes, all under the supervision of fitness coaches; and a Sports Zone featuring batting and pitching tunnels and turf fields.
The club offers private instruction for softball and baseball pitching and hitting, along with introductory sports classes for kids ages 2½ and up. The Sports Zone also rents space to local sports teams.
Located at 37 West Jefferson Avenue in Pearl River. 845-517-1400; direct party line: 845-517-1466. www.visionsportsclub.com.
Find Children's Birthday Party Resources in your area.
Consult our Calendar of Events for the best family activities in your area.