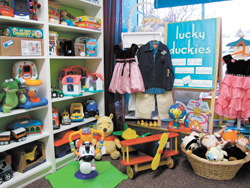 Suffern's New Swap Spot
New to Suffern is lucky duckies, a consignment store that buys and sells new and gently used clothing, accessories, toys, and gift items for children ages newborn to preteen. Owner Kim Trevisan opened the store in mid-November. After being laid off a year ago and struggling to find work, Trevisan saw a vacant store that sparked an idea. "I thought, 'I have so much stuff at home and I know everyone else does, too,'" says Trevisan, a mother of four children ages 4-9.
The store accepts new and gently used children's items in excellent condition. Brand names are a good guideline, Trevisan says, but items are evaluated on a case-by-case basis.
For buyers, clothing and equipment are generally priced between 60-75 percent off the original value. "It's a great place to get a bargain in this economy," Trevisan says, "and because people can also sell their items, it's a win-win."
Sellers should call ahead of time to drop off items, and buyers can stop by during store hours: Tuesday and Thursday 10am-1:30pm; Wednesday 10am-1:30pm and 3:30-7:30pm; Friday 10am-1:30pm and 3:30-5:30pm; Saturday 10am-5pm (closed Sunday and Monday). Located at 51 Lafayette Avenue, Suffern. 845-504-0760. www.lucky-duckies.com.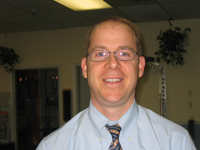 Laser Power
A homeopathic answer to allergies and similar afflictions recently became available in Nanuet. Dr. William Johnson, B.S., D.C., now offers the BAX (Bioallergenix System) 3000 laser treatment in his chiropractic office, which works to improve the health of allergy sufferers by reducing stress in the nervous system.
The treatment can be used on any type of allergy, from peanuts to pollen, and has also been reported to be effective in patients with afflictions like eczema, shingles, celiac disease, and chronic fatigue, Dr. Johnson says.
"We do not treat symptoms - drugs do that," Dr. Johnson explains. Rather, the technology reprograms the autonomic nervous system to produce a normal response to allergens, he says.
The amount of sessions needed ranges from two to 30, depending on the amount and severity of allergies, reports Dr. Johnson, adding that about eight out of 10 of his patients are seeing results. The technology is safe for all ages, though children usually respond better to the treatment. Dr. Johnson adds that the treatment is FDA-approved and has no side effects.
For more information on BAX 3000, visit www.biovedawellness.com. Advance Chiropractic, P.C., is located at 221 South Middletown Road in Nanuet. 845-623-0026. www.DoctorWilliamJohnson.com.
Master Yourself
Master Maeang's Tae Kwon Do Center, which offers training in traditional Korean martial arts, opened in Tappan this past September. The 1,700-square-foot martial arts studio offers programs for ages 3 and up, including afterschool classes, a Mommy and Me class, Lady's Cardio Kickboxing, and a summer camp program. Classes are offered for a wide range of skill levels.
The Mommy and Me class, for toddlers and mothers, is a mimicking class for little ones that encourages the development of coordination, balance, and physical strength. Older children - those in first grade and up - can participate in afterschool classes and the studio's upcoming summer program, which will begin in July and feature a choice between a half-day or full-day program.
All programs aim to develop discipline, self-esteem, and self-control, says the studio's owner, Master Maeang, who is both an active police officer and a U.S. Marine who recently returned from serving our country in Iraq. Maeang says his career is a big influence on his teaching methods. "Discipline wise, I teach [my students] lifelong skills," he says, "and that they should always do the right thing." Located in Tappan Plaza, 35 Route 303, in Tappan. 845-398-5333.