Got Pests?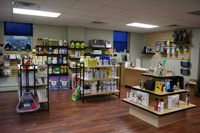 Need to get rid of the bugs and creatures crawling around your house, but concerned about the harmful chemicals in traditional products?
R. Dana Pest Control
, a family owned and operated pest control company for over 35 years, has opened a retail location in West Haverstraw for the do-it-yourself homeowner searching for all-natural pest solution products. Items including mosquito barriers, bug repellants, sprays for beds and furniture, and head lice remover contain no pesticides or harsh chemicals, and are DEET-free, botanical- and food ingredient-based, and best of all, not dangerous to children or pets. If you're not sure what exactly you have been encountering, browse the pest and bug display posters to find out why the problem exists and what steps need to be taken in controlling and eliminating it. And while you're handling your pest problem, kids will enjoy the children's interactive area with fun activities to teach them all about everything from bees to bed bugs, through books, puzzles, videos, and microscope slides. Located at 2 Samsondale Avenue in West Haverstraw. For more information call 845-786-5224, email
[email protected]
, or visit
www.danapestcontrol.com
.
A Screamin' Good Time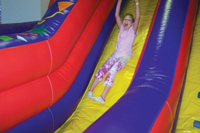 Your child's next party will be a bouncing, jumping, out-of-breath celebration at
Screamin' Parties,
Rockland's first indoor inflatable party location. The 10,000-square foot facility features five inflatables, including a huge obstacle course, giant slide, and mega bouncer, as well as thick padded floors and high ceilings.
   Additionally, children will enjoy "The Screamin' Party Machine," a state-of-the-art rollercoaster simulator with a six-by-eight-foot screen, featuring hundreds of rollercoaster tracks traveling in outer space, over mountains, and through mineshafts. Parties take place Saturdays 12:30-7pm and Sundays 10am-7pm. Each party is private, and they can accommodate up to 55 children and last 90 minutes (one hour in the play area and half an hour for food and cake). Screamin' Parties also has Parent's Night Out/Open Play one night per month. Located at 248 West Nyack Road in West Nyack. 845-267-2022;
www.screaminparties.com
.