Fun Under the Big Tent
   If being taught by professional instructors from
Big Apple Circus
and
Cirque du Soleil,
and learning an assortment of ground and aerial skills, including juggling, balancing, acrobatics, tight wire, trapeze, and clowning weren't exciting enough, the
Circus Arts Summer Day Camp from Amazing Grace Circus
just got more exciting. The two-week camp session that runs July 20-August 2 will take place inside a real circus tent in Memorial Park, along the Hudson River. Children can be signed up for any two-week session (including the session in the circus tent), or the entire camp period, which runs June 29-August 14. (All other weeks of the camp take place at Grace Episcopal Church.) At the end of each session, there is a Showcase of Talents where children perform for their families. There will also be circus movie nights and special weekend performances. To register for the camp, or for more information, call 845-348-8740 or visit
www.amazinggracecircus.org
.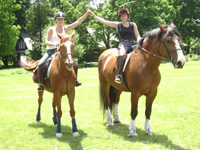 Saddle Up
Clausland Mountain Stable
is a peaceful, wholesome, and friendly stable in
Orangeburg
. Riding lessons are offered for every type of rider, from beginner to advanced, ages 7 and older. Children under 7 can have grooming and stable lessons, with a short ride at the end. There is even a therapeutic riding program for children with physical, mental, and emotional challenges, such as autism, MS, and cerebral palsy. Clausland's summer camp incorporates animals, nature, and art. Not only do children learn about horses, grooming, and horsemanship skills, and, of course, take riding lessons, but they also experience organic horticulture, raising and taking care of baby chicks, and arts and crafts activities, such as drawing and painting animals from real life. For a special way to celebrate your child's birthday, have a Pony Party, with pony rides, horse grooming, feeding chickens, collecting eggs, and hanging out on the farm. For more information: 845-300-5211 or
www.clauslandmtnstable.com
.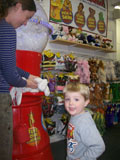 Party Animals
   Who says indoor parties can't be a blast? With the all-inclusive
Indoor Winter Party Package from Champion Birthday Partie
s
, kids make their own 14-inch stuffed animals to take home. With Animaland Creation Factory, they use a gumball-like stuffing machine to create their plush pets, then choose from a variety of outfits — from Pink Poodle Rock Idol to Karate Dinosaur — to dress them. Party options also include pizza, drinks, ice cream sundaes, goodie bags, double-slide inflatable bouncer, video buzzer trivia game show, gooey science projects, airbrush tattoos, and a piñata. Kids have fun while parents sit back and relax; the energetic party hosts take care of everything. The Indoor Winter Party Package continues into spring, with portions of it taking place outdoors. Two-hour parties start at $300 for the first 10 children, and $22 for each additional child. To book a party, or for more information, call 800-755-1004 or visit
www.championparties.com
.