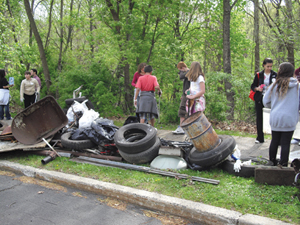 More than 100 students in the North Rockland Central School District participated in the Great American Cleanup, held this year on April 21. The students collected roughly 600 pounds of trash, including 12 tires and several hundred pounds of scrap metal.
Students from Willow Grove Middle School, Fieldstone Secondary School and North Rockland High School targeted their effort on one common task - cleaning up the walking path along the Minisceongo Creek, which is located next to Thiells Elementary School. They also cleaned Suffern Lane and Thiells Mt. Ivy Road before reaching Thiells Elementary School.
"We're proud of our students for working so well together to beautify our neighborhood," says Jennifer Luongo, assistant principal of Fieldstone Secondary School. "Working as a team the students did an amazing job collecting all the refuse along the walking path."
The Great American Cleanup is a national community improvement programs involving cleanup projects in communities across the country. It takes place annually from March 1 through May 31.