Related: pets, patients, pediatric, therapy, dogs, hospital,




I'll never forget the time last winter when my daughter woke up in the middle of the night screaming, sweating, and with a 106-degree fever. My husband and I threw on our clothes and rushed, in a snowstorm, to Nyack Hospital – where we spent the next two nights in the pediatric unit. We were all treated well, but like most families, we were also eager to leave as soon as possible.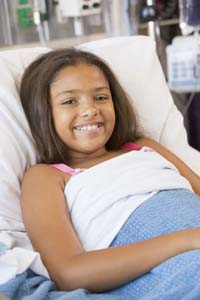 Hospital officials know their visitors are reluctant ones, especially when children are involved, and they're taking steps to help make the hospital experience a little more pleasant for their littlest patients.

Last January, the hospital launched Pet Pals, a program that periodically brings a therapy dog (and its owner) to visit with pediatric patients. The idea for the program came from staff within the department, according to Mary Ann Clay, RN, nurse manager of pediatrics and the intensive care nursery at Nyack Hospital.

Visits are currently arranged based on a census of pediatric patients and their conditions. Permission is secured by both doctors and parents. Currently, just one dog is involved but hospital officials hope to expand the program to include more animals and more regular visits to both pediatrics and other units.

Clay says the presence of a friendly pet face helps normalize the hospital experience, which itself is beneficial. But patients aren't the only ones to benefit. "All of the floor staff was on board with this throughout the planning process. Other visitors also seem excited to see the dog visiting with patients."

Pet Pals is one of the latest pediatric initiatives by the hospital. Six years ago they opened a dedicated Pediatric Emergency Room that is staffed from noon until midnight by healthcare providers who specialize in pediatric care, according to Amy Massimo, director of public affairs. "The area has a cheerful environment that addresses families' emotional needs during what is undoubtedly a stressful time," she says, adding that the area also has private exam rooms, shielding children and their parents from the activity in the larger emergency area.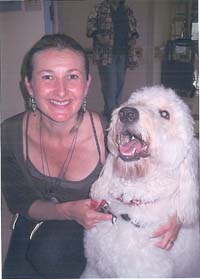 And earlier this year, restaurants throughout Rockland County participated in Dine Out For Kids Rockland, a fundraising effort to establish a new pediatric playroom at the hospital. Participating restaurants pledged to donate 20 percent of their dinner proceeds for the playroom. Hospital officials hoped to raise $25,000 for the cause.

"Brand new furniture for adults and kids, children's television programs, plenty of age-appropriate learning materials and games in this specially outfitted room will greatly contribute to the level of care and family satisfaction in our unit," said Dr. Maja Djordjevic, director of pediatrics at Nyack Hospital, in a statement issued by the hospital.

Massimo says the changes are part of an overall plan to improve pediatric services for the hospital, which last year treated over 1,100 patients under age 18. "These changes are to update and modernize the existing level of care for out pediatric patients. We want to make each child's stay more comfortable, and having a warm, engaging environment can make the time pass more quickly. "

(Photo: Nyack Hospital's Pet Pals volunteer with their labradoodle, a certified therapy dog. The team visits children in the hospital's Pediatric Ward.)
---
Get Your FREE Indoor Activity eGuide!
---
More Articles
Be a good fellow parent and share this with a friend who would be interested
Local Sponsors



Teach Me At Home
866-893-HOME

Getting anxiety just thinking of this year's Commo...
See Our Directory