For West Nyack mother of two
Laurie Seeman
, Earth Day doesn't come around once a year; it's an every day affair.  As a self-described "environmental artist, scientist and educator", Seeman uses art to teach children to appreciate their environment and to act as its "keepers".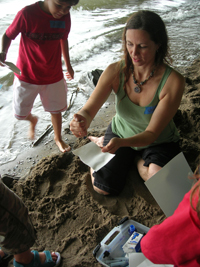 To foster a love for the environment, she will have her students explore the outdoors and create art from whatever surrounds them.  Seeman, often assisted by fellow artist and nature enthusiast, Joanna Dickey, will encourage students to use willow tree twigs as paintbrushes and beach glass to create mandalas in the sand. 
     Other days, they create watercolor paintings using only recycled cotton paper, river water, sand and ink.     
     Since moving to Rockland County in 1996, Seeman has committed herself to improving the environment and to urging all who will listen about the small steps that each of us can take to bring about big improvements.  The way she sees it, the next generation — our children — can make the biggest difference in how we treat the Earth. It all depends on how we educate them.   
     Seeman is a long-time water activist who has lived near the Hudson River for 30 years. She conducts classes along the river's shores and tributaries.  She teaches children the way they learn best:  through the senses.  Seeman starts off her river class by encouraging the children to be in the presence of the river — to listen to the waves coming in and to touch the water with their hands and feet.  She suggests the children greet the river as they would a friend. One day, she conducted a scavenger hunt, asking kids to bring back anything on the beach that caught their attention.  Broken glass, twigs, shells, bottles, Styrofoam, a drinking straw and even a piece of blacktop were collected.  Seeman used this exercise to teach the children about objects that occur naturally in the environment, like twigs and shells, versus those that have been manufactured.  She taught the six children in that class — all between the ages of 4 and 10 — about items that may be and those that should never be discarded into the river and other bodies of water.  Seeman then demonstrated — by sending a single drop of blue ink into a clear vase filled with river water — how a single drop of polluted liquid spreads into and contaminates the whole.  She spoke about the Hudson watershed, which includes far-reaching, inland streams and tributaries where many of us live, and how our activities — whether it's throwing trash in the water or pouring chemicals down the drain — affect the quality of the water.  The participants were fully engaged and, having touched the river and created art from it, were eager to learn how to keep the water clean so they can continue to enjoy it.   
     Seeman is also partnering with Riverkeeper — the non-profit civilian watchdog organization created 40 years ago — to educate surrounding communities about the Hudson River and the need for each person's participation in order to improve water quality.  Riverkeeper has one boat that continuously patrols the Hudson River.  The boat's captain, John Lipscomb, is often on the river for days on end.   
     Captain John — as Laurie Seeman's students call him — patrols up and down the Hudson River looking for anomalies.  In the 6,000-plus nautical miles he has logged on the Riverkeeper boat, he has spotted oil spills, raw sewage and even construction debris being dumped into the river.  Once identified, Captain John notifies Riverkeeper headquarters. The organization works with local authorities and environmental protection agencies and even litigates to keep polluters from causing further damage.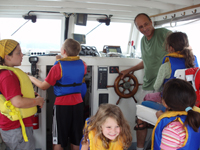 Captain John is an avid storyteller and loves to regale the children with facts about the 213 species of creatures that call the Hudson River home.  He describes the shallow waters of the river as a "nursery" for baby creatures, allowing them to grow before they head out to deeper waters.  He has pictures of the sturgeons that inhabit the river and tells the children how they are being poached for their eggs.  He explains how the river is brown — not because it's dirty, but because the water is dense with plankton and other life.  He shows the necessity of a clean water supply by pointing out where people fish or gather crabs.  He points to the racing boats whose occupants are enjoying the water.  Then, after he has captured the children's attention with all fun aspects of river life, he takes them to a site where the water is pungent with the smell of sewage being pumped in by an adjoining plant, and shows them the pictures he keeps on his boat of an oil spill.  He explains that they are the stewards of the water and how it is everyone's job to keep the water clean.  By doing something as simple as not pouring cleaning supplies down the drain, the water quality is improved and life is lengthened for the creatures in the river.     
    As it exists, Riverkeeper is a watcher — it identifies problems once they arise — but its work is not proactive.  The organization is attempting to change that through its partnership with Laurie Seeman.  Riverkeeper and Captain John will continue to patrol the water, while Seeman will go to schools and set up art-based community programs to spread the word about conservation.
Along the way, those with a special commitment to river stewardship will be invited to spend time on Capt. John's river boat.    
   In addition to her Riverkeeper duties, Laurie Seeman hosts after-school, nature-art workshops for children ages 6-11 at her studio, and a summer program, now running 10 years. She also specializes in creating custom, year-round, environmental art education workshops on request for private groups, schools and communities. For more information,
contact her at (845) 558-0877 or
strawtownstudio.com
.  Riverkeeper may be reached at (800) 21-RIVER and
Riverkeeper.org
.