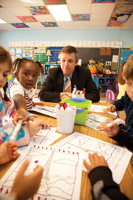 Options in Education
Rockland County parents are invited to learn about non-public school options for their children. Representatives of four independent schools in Rockland and Orange counties will hold an information session at Hopper House in Nyack. School administrators and parents from Blue Rock School in West Nyack (preK-grade 8), Green Meadow Waldorf School in Chestnut Ridge (preK-grade 12), Rockland Country Day School in Congers (preK-grade 12), and Tuxedo Park School in Tuxedo Park (preK-grade 9) will be on hand to present their schools and answer questions. December 3. 5-7pm. For more information, contact Kristen Heard, director of admissions and financial aid, Tuxedo Park School, at 845-351-4737.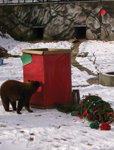 Beary Christmas
Stop by Bear Mountain this month for two special holiday celebrations. On December 5, see fireworks light up the night sky for a seasonal show. Then on December 19, see the Bear Mountain Zoo's resident bears get their holiday gift boxes of holiday treats (rain date December 20). Palisades Interstate Parkway Exit 19 or Route 9W. 845-786-2701. www.nysparks.state.ny.us/parks.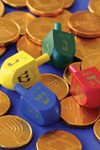 Oh Dreidel, Dreidel, Dreidel
Celebrate Hanukkah with two holiday programs at the JCC Rockland on December 6. At 2pm families are invited to spend time in the center's kitchen preparing for the Festival of Lights with yummy holiday treats. $55 per family. Then at 4pm, families can join Canadian musical performers and children's television personalities Judy and David as they tell the story of Hanukkah with a 12-foot menorah and giant dreidel. $10 per person. 450 West Nyack Road, West Nyack. 845-362-4400. www.jccrockland.org.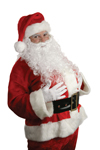 Breakfast with Santa
Children can enjoy a free bagel breakfast with Santa in the Palisades Center's Santa Land, December 13 at 10am.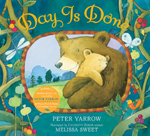 Peter Yarrow's Songs and Stories
Meet Peter Yarrow, children's book author and former member of the seminal 60s group, Peter, Paul and Mary, at the JCC Rockland's Jewish Book Festival. Yarrow will present a picture book version of his song "Day is Done," and perform his famous folk songs like "Puff, the Magic Dragon" and "Light One Candle." He will also sign copies of his bestselling illustrated books, Day Is Done; Puff, the Magic Dragon; and the three Peter Yarrow Songbooks (his anthology of folk music for kids): Favorite Folk Songs, Sleepytime Songs, and Let's Sing Together! December 13 at 2pm. $12, children and seniors $9. 450 West Nyack Road, West Nyack. 845-362-4400. jccrockland.org/jewishbookfestival.htm.
To the Moon!
Need a break from the holiday season? Why not take a trip to the moon, at the Lower Hudson Valley Challenger Learning Center? Participants in "Return to the Moon" will work in a simulated spacecraft and mission control center performing tasks like navigation, medical assistance, communication, and life support. December 20. 2-5pm; arrive 1:45pm $20, $15 seniors, $10 ages 9 and under with an adult. Reservations highly recommended. 225 Route 59 in Airmont. 845-357-3416 or www.lhvcc.com.
Also see our list of "The Nutcracker" performances in Rockland County scheduled for this holiday season.