Related: girl scout, rockland county, new york, west nyack, nyack hospital, ny, gold award, pillows for pink, breast cancer, the breast center, community service, Rachel Broudy,



Rachel Broudy, a Girl Scout from West Nyack, New York, earned the Girl Scout Gold Award for her creative community service at The Breast Center at Nyack Hospital.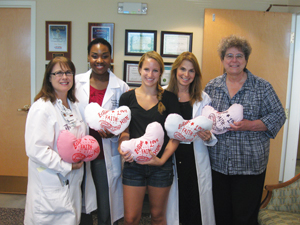 Rachel Broudy (center) with Nyack Hospital staff members (left to right) Marianne Walsh, RN, assistant nurse manager; Nicola Smith, NP, patient navigator at The Breast Center; Shari Siegel-Goldman, MD, breast imaging specialist at The Breast Center; Helen Rock, administrative director at The Breast Center.
Rachel Broudy of West Nyack, a member of Pearl River Troop 40578 Girl Scouts Heart of the Hudson, recently completed the requirements to receive the Girl Scout Gold Award.
Rachel's project, "Pillows for Pink," involved raising funds for materials to create heart-shaped pillows for distribution to breast cancer patients in Nyack Hospital's The Breast Center. "I wanted to help breast cancer patients feel more comfortable," Broudy says. In addition to raising funds for the project, Broudy coordinated a group of volunteers to help decorate the multi-colored pillows.
The Girl Scout Gold Award honors scouts age 14 to 18 who complete a project that encompasses organizational, leadership, and networking skills, and sets the foundation for a lifetime of active citizenship. The project fulfills a need within each girl's community (whether local or global), creates change, and is something that becomes ongoing. "Pillows for Pink" met these strict requirements and had the added benefit of bringing joy to women receiving care at Nyack Hospital.
More Local News - Rockland County Articles
Bounce! Trampoline Sports Offers Sensory Bounce Time
Martial Arts and Fitness Center Expands Location, Adds Classes
West Rock Indoor Re-Opens Turf Area of Facility
My Gym Nanuet Receives Face-Lift Under New Owner
Screamin' Parties Opens New Location in Nanuet

Be a good fellow parent and share this with a friend who would be interested
Local Local News - Rockland County Sponsors
See Our Local News - Rockland County Directory