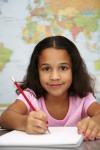 UPDATED SEPTEMBER 2014: Head back to school in Rockland County, NY with our guide to Rockland schools, after-school classes for kids, religious schools, music, dance, and gymnastics programs for kids, art and theater classes, Rockland sports teams and programs, after-school tutors in Rockland County, and more Rockland school resources in Orangetown, Ramapo, Nyack, Suffern, and the rest of Rockland County, New York.
ANNA DE LA PAZ CHILDREN'S & ADULT FLAMENCO CLASSES
Helen Hayes Studios, 142 Main St, Nyack
845-596-5156

Anna de la Paz has over 20 years experience teaching Flamenco. The Children's Program is designed for boys and girls ages 6-12. Classes focus on the style and technique of Flamenco and Spanish dance, with students learning proper posture, vocabulary in Spanish, the arm and hand movements known as braceo, castanets, footwork technique and Flamenco rhythms, palmas (hand-clapping), turns, traveling steps, and choreographies suited to the students' abilities. Classes are held at the Helen Hayes Studios in downtown Nyack. For more information, visit annadelapaz.com or call 845-596-5156.

APPLAUSE PERFORMING ARTS CENTER
25 W. Central Ave., Pearl River
845-920-1555; 201-362-4948
Email [email protected] or [email protected]

APPLAUSE is an educational theater organization specializing in musical theater classes and shows for children ages 3-18, beginners-advanced. APPLAUSE offers classes in all three artistic disciplines: acting, singing, and dancing. Ms. Renna provides a unique opportunity for kids to perform in shows, creating special parts for each child. Your child will develop self-confidence and self-esteem in the supportive environment. APPLAUSE provides programs and performances year-round, so call or email for current programs and show information. You can also join our exciting APPLAUSE Company, which performs at Hershey Park, festivals and special events.

ART ADVENTURE
60 Dutch Hill Road, Suite 8, Orangeburg
845-680-6780
Email [email protected]

Beginning in September, Art Adventure will be offering fun and innovative after-school programs for children in grades 1 through 12. We use relevant themes (such as video game/ television characters, street art techniques, and messy experimentations), combining them with solid fine art instruction. Our classes are designed and taught by a certified teacher. Free trials are always available.

BETH AM TEMPLE
60 E. Madison Ave., Pearl River
845-735-5858

From Rabbi Dan Pernick to Cantor Marcy Kadin to Principal Barry Shainker, all of Beth Am Temple's leadership staff are graduates of Reform Judaism's Hebrew Union College-Jewish Institute of Religion. With 220 families and 100 students, our temple is large enough to provide a full range of programming, but small enough to ensure that your child receives individualized, professional attention. Our K-12 religious school, youth groups, special-needs educational programming, relaxed style, and much more make Beth Am Temple the right choice for your Jewish child(ren) and your family.

BILLY BEEZ
Located at Palisades Center, 1282 Palisades Center Drive, First Floor, West Nyack
845-535-9277

Billy Beez's 26,000-square-foot, indoor playground is filled with colorful murals, whimsical characters, and giant play structures, built around a maze of dizzyingly high and wildly twisting slides. There are dozens of activities inside the playground that encourage physical, mental, and social development through play…all with no video games or TVs! Great for open play, birthday parties, and groups, as well as weekly Mommy & Me, sports classes, and drop-off programs. For more information, please contact our events department at [email protected]

BOUNCE! TRAMPOLINE SPORTS
612 Corporate Way (off Route 303), Valley Cottage
845-268-4000
310 Michael Drive, Syosset
516-762-1300
Email [email protected]

Bounce! offers the opportunity to play sports, have fun, and get fit on enormous courts of interconnected trampolines. Guests can enjoy open jump time, trampoline dodgeball, slam dunk basketball on our new dual lanes, foam-pit jumping, and a fun arcade. We also have private party rooms, a Wi-Fi lounge, healthy food vending machines and snack bar, and a separate Bounce! Jr. Zone for kids ages 6 and younger. And ask us about Toddler Time! School, camp, and group trips welcome. Fundraising opportunities available.

CANTOR BARBRA LIEBERSTEIN'S JEWISH LIFECYCLES
201-788-6653
Email [email protected]

Cantor Barbra is an ordained cantor with over 12 years of pulpit experience. She tutors Bar/Bat Mitzvah students in the convenience of their homes, as well as small groups. Every student learns about the Jewish culture, history, life cycles, and bible studies, in addition to reading Hebrew and chanting prayers. The students participate in community service, Holocaust studies, and Havdalah services to mark the end of the Sabbath. Cantor Barbra also officiates at Bar/Bat Mitzvah ceremonies, Baby Namings, and weddings.

CLARKSTOWN THEATRE COMPANY
8 Second St., Lower Level, New City
845-708-2288
Email [email protected]

Clarkstown Theatre Company began a year ago in our community to create and develop artists as actors and performers. We are a year-round studio that offers acting classes, musical theater workshops, and intimate, original showpieces. Join us where the craft of theater is experienced in a warm and positive environment with professional instructors. Give us a call to see if your child might flourish in our studios, where imagination and the craft of acting are taught with a sense of humor! Registration for our fall classes begins Aug. 25.

CONDORS SWIMMING
845-638-4381
Felix Festa Middle School Pool
30 Parrott Road, West Nyack
Email [email protected]

Learn to swim from the best! We offer half-hour lessons with a low student: teacher ratio for Beginner through Pre-Competitive swimmers. The Condors have a place for swimmers of all skill levels, and are committed to providing the absolute best coaching available, including an Olympic Team and ASCA Hall of Fame Coach. Our competitive team includes Olympic Trial and several national event qualifiers. Condors operates out of Felix Festa Middle School pool. For year-round lessons and team try outs, please email or call for more details.

CORNERSTONE CHRISTIAN SCHOOL
384 New Hempstead Road, New City
845-634-7977

We are an independent, evangelical, elementary school (K-8th grade) serving the local Christian community since 1984. We want our students to have the awareness that they're very significant individuals, each one very special to God, each one marked by Our Lord for His purpose. Our certified teachers integrate a biblical worldview throughout the curriculum, thereby impacting every aspect of knowledge and learning. The small class size allows for more individualized academic instruction. Our Kindergarten program is full day. Bus transportation available throughout Rockland. We're a ministry of Gracepoint Gospel Fellowship.

COUPÉ THEATRE STUDIO
33 E. Route 59A, Nanuet
845-623-2808

For more than 40 years, Coupé Theatre Studio has offered the finest training in all the performing arts. Weekly classes in ballet, pointe, jazz, modern dance, tap, theater dance, hip-hop, musical theater, acting, voice, and kinderdance are available, as well as programs just for boys and adults. Coupé's current full-time teachers hold degrees in dance education, or have had extensive professional performing careers. Classes are carefully monitored for size, compatibility of students, and quality of teaching. Fall 2014 registration is now in progress.

DANCEWORKS
69 Lake Road, Congers
845-268-4669
Email [email protected]

Danceworks has been in the Clarkstown area for more than 33 years. The studio offers classes in creative dance, pre-ballet, pointe, tap, jazz, and hip-hop for ages 3 through teen. Danceworks specializes in children—encouraging a friendly and non-competitive atmosphere. Several children have gone on to study at the School of American Ballet in Manhattan. Our adult ballet workout (free babysitting) teaches you to work with your body, not against it. Beginners are welcome, and no special clothing is needed. Free trial classes are available to all.

DEBORAH KOENIG EARLY CHILDHOOD CENTER AT JCC ROCKLAND
450 W. Nyack Road, West Nyack
845-362-4400 x103
Email [email protected]

Now accepting infants (6 weeks-Pre-K). The Deborah Koenig Early Childhood Center is committed to providing excellent care and education to our diverse and rich community in Rockland County. We believe that our children are precious, and we are here to support your efforts to provide them with a bright start. We partner with our families to encourage creativity, curiosity, and imagination, and to build trusting relationships. Our mission is the same as yours; for your child to grow and develop in an environment that is safe, warm, and stimulating.

DWIGHT-ENGLEWOOD SCHOOL
315 E. Palisade Ave., Englewood
201-918-3708

Dwight-Englewood School is an independent college preparatory day school for students in preschool (age 3) through grade 12. Located on more than 40 acres of green campus within minutes of the George Washington Bridge, the school enrolls approximately 950 students from 90 communities in Bergen and Hudson counties in New Jersey, Rockland County, and New York City. Challenging minds for a changing world, Dwight-Englewood fosters independent thinking; the ability to solve problems; and the skills, tolerance, and integrity it takes to thrive in the 21st century. Visit us online for Fall 2014 Open House events.

THE FABRIC LADY
845-641-4441
Email [email protected]

We offer sewing and quilting lessons for adults and kids—everything from basic sewing techniques to learning how to put in a zipper or button hole. We bring custom Kids' Sewing Parties, Girl Scout Troop "earn a sewing patch," and other group programs to your chosen location. Kids will learn to sew and make their own creations. Projects offered vary by age, so call for more details. We also offer a large selection of fabrics, notions, sewing machines, and current and vintage fabrics. Private lessons and Bar/Bat Mitzvah activities available.

HELEN HAYES YOUTH THEATER
142 Main St., Nyack
845-826-2049

Celebrating our 17th year of excellence in theater education, the Helen Hayes Youth Theater offers year-round theater programs for kids ages 5-17, including weekend and weekday classes and productions. We welcome performers with all levels of experience. Please join us for professional training in a friendly, supportive environment. For more information, call us or visit our website.

I9 SPORTS®
Fall Leagues held at facilities in North Rockland, Orangetown, and New City,
845-624-PLAY (7529)

Currently enrolling for Fall and Winter seasons, i9 Sports® is the nation's first and largest provider of youth sports leagues in the United States. We offer youth sports leagues, camps, and clinics for boys and girls ages 3-14 in today's most popular sports such as flag football, soccer, basketball, T-Ball, and cheerleading. With our focus on fun, safety, convenience, and good sportsmanship, i9 Sports® offers traditional kids' sports leagues without the traditional headaches! Call for specific sport and field information. Register by Aug. 23 and save!

JEP OF ROCKLAND HEBREW SCHOOL
30 Blueberry Hill Road, Monsey
845-558-5858

JEP of Rockland's Bobbi Lewis Hebrew School provides an outstanding Jewish education through our comprehensive curriculum, taught by dynamic and creative teachers in a fun and loving environment. Inspiring classes for parents and grandparents, family holiday events, mitzvah projects, fantastic Shabbatonim, exciting trips, and an Israel fair are integral parts of the JEP experience. We also offer a very vibrant post-Bar/Bat Mitzvah program for teens. Reasonable rates. No membership dues. For more information, contact Naomi Greenwald at 845-558-5858.

JOE DELIA STUDIOS
845-304-9560
Email [email protected]

Serving Rockland and Northern Bergen County. Acclaimed pianist/composer Joe Delia is now accepting students in piano, vocals, and composition for the 2014-15 season. Mr. Delia opens up the world of music for students, tailoring lessons to each individual's needs. All ages and experience levels are welcome. Moderate rates. In-studio or at-home instruction. Mr. Delia has composed over 30 film scores and countless television shows. He has gold and platinum records as a keyboardist, composer, producer, and arranger. See imdb.com (Joe Delia I) and joedeliamusic.com.

JW TUMBLES
321 Broadway, Hillsdale
201-453-3010

JW Tumbles offers growth development classes for children ages 4 months-4 years. Our classes focus on developing each child's social, physical, and cognitive skills in a fun, safe, and clean environment. The laid-back structure of our classes allows each child to develop at their own pace, while having fun. Each class is led by two experienced trainers, and includes circle time, tumbling skills, adventure time, fine-motor-skill development, swings, and everybody's favorite, bubbles! Call us today to schedule a free trial class.

KIDS PARTY PLAY & TUMBLE
465 Old Hook Road (across From Pascack Valley Hospital), Emerson
201-523-9495; 201-523-9496

Come visit our brand-new kids' gym opening September 2014! Our wonderful new space features a Kindergarten gym offering pre-school gymnastics, Mommy or Daddy & Me classes, dance classes including tap, ballet, jazz, hip hop, baby ballerina, yoga for kids, and baby yoga. We will also be offering Gym and Dance Birthday parties and Parents' Date Night /drop off programs, as well as membership specials and family membership programs. Call now for our fall schedule, membership details, grand-opening special offers, and to sign up for a free trial class.

KREATIVE KIDS
61 Maple Ave., New City
845-634-2202
Email [email protected]

Kreative Kids is a toddler/nursery program for boys and girls ages 16 mos.-4 yrs. (diapers welcomed!). Classes are divided by age. We offer arts and crafts, music with instruments, singing, creative movement, tumbling, story time, snack time, early learning skills, and lots more. Our professional staff balances active and quiet activities, as they provide comfort and love to each child, making separating easy. Classes are kept small to provide individualized attention.

LEAD ACADEMY
450 S. Main St. (Route 304), New City
845-639-6674

Lead Academy after-school classes and tutoring prepare students for challenges ahead. Our dedicated and experienced teachers help elementary, middle, and high school students with homework, projects, reading challenges, accelerated math, and language arts preparation. We prepare students for the SAT, NYS ELA and Mathematics preparation, Regents exams, critical reading and writing, math, and problem solving. Our Common Core Curriculum subjects include science, math skills and logical thinking, and developing reading and writing skills. Our Power SAT Prep Course runs all year long. Register by Sept. 15 and receive a 10-percent early registration discount.

LEGOLAND® DISCOVERY CENTER WESTCHESTER
Westchester's Ridge Hill, 39 Fitzgerald St., Yonkers
866-243-0770
Email [email protected]

LEGOLAND® Discovery Center Westchester is the newest field trip destination in the tri-state area! This indoor center is ideal for school, scout, and homeschool groups ages 3-12 years. Their imagination is the only limitation! Youth groups can reach out and touch the stars in the 4D cinema, learn LEGO® building secrets from the Master Model Builder, see local iconic landmarks in MINILAND®, learn as they build the tallest tower and test the tower's strength on Earthquake tables…and more!

MASTER JUNG & YU TRADITIONAL TAEKWONDO
70 N. Main St., New City
845-638-4000

Blending Korean culture and philosophy with traditional taekwondo, Master Jung and Master Yu's school is unique in martial arts training. By combining physical with spiritual, we offer the most complete and satisfying training, embodying mind, body, and spirit. Classes are open seven days a week for all ages. Our unique birthday parties open the door for future leaders and martial artists and are available on weekends. Energize your whole being at Traditional Taekwondo. Call for more details.

MY SWEET PEA
14 N. Main St., New City
845-638-2229

New City's premier children's boutique is now offering craft workshops! My Sweet Pea Boutique presents Classes by Katy, a series of project-based craft and cake-decorating workshops for children and adults. Children ages 18 months to 14 years are invited to select from our craft workshops focusing on projects from silly, hand-made creatures to personalized wall art. Our cake decorating classes will cover basic to advanced decorating techniques, for both children and adults. Classes can be purchased individually or in multi-class packages. Please call for more information, including class dates, times, prices, and themes.

NEW CITY JEWISH CENTER NURSERY & RELIGIOUS SCHOOL
47 Old Schoolhouse Road, New City
845-638-9600
New City Jewish Center Early Childhood Camp Program

The NCJC Nursery School is proud to be a New York state-accredited nursery school, instilling a love of learning and Jewish life from the earliest stages of your child's education. Our programs include everything from Mommy and Me to pre-K, guiding your child through the developmental stages of early childhood. We also incorporate programs such as yoga, sports, music, and Hebrew Through Movement. Our Hebrew school offers a truly innovative approach to Jewish education, designed to engage, educate, and empower our young people to form a lasting connection to their Jewish identity.

NEW CITY SCHOOL OF MUSIC
12 N. Main St., New City
845-481-3754

Call now to register for fall music lessons! The school offers lessons in piano, guitar, voice/singing, drums, violin, saxophone, flute, clarinet, and more. Our university-trained teachers pass on their expertise in a warm and friendly environment. Free recitals are held regularly throughout the school year to help boost self-confidence. Our lesson rooms are designed to maximize music learning and decrease distractions during lesson time. Brand new to music lessons? Visit our website at newcitymusicschool.com for our free parent report titled, "Five Ways To Get The Most Out of Music Lessons."

NURSERY SCHOOL OF THE NYACKS
130 First Ave., Nyack
845-348-3268

Nursery School of the Nyacks is a non-profit, cooperative nursery school based on the Bank Street philosophy of education, a world-renowned institution for early childhood development with a focus on creativity, communication, and compassion. Art, music, movement, and nature study are incorporated into the school. In order to create a warm and intimate environment, class sizes are kept small and the teacher-student ratio is excellent. Each class is staffed by highly qualified teachers who bring years of experience in early childhood education to our 2's, 3's, and 4's class programs.

PALISADES CLIMB ADVENTURE
4590 Palisades Center Drive, Level 4 of the Palisades Center, West Nyack
845-727-3500

Palisades Climb Adventure offers the world's tallest indoor ropes challenge course, standing 85-feet tall, with five levels and 75 unique challenge elements to explore, climb, and conquer. More advanced athletes will find a challenge, while "just for fun" climbers will experience a sense of athletic accomplishment. New to the attraction is the Sky Tykes kids' ropes course, designed for ages 2-7 and 48" and under. Both courses are available for field trips, team building, birthday parties, and groups of 10 or more. Visit palisadesclimb.com.

RISING STARS DAY CARE
845-243-7995
Email [email protected]
Currently accepting enrollment for the 2014-15 year. Low child-to-teacher ratio insures individual attention for your child. We offer structured indoor and outdoor play in a safe and loving environment. Our well-rounded curriculum includes letters, numbers, shapes, colors, math, circle time, crafts, story time, music, and games. Personal summary sheets are emailed home daily so you can see how your child's day went. Full- or part-time schedule for infants, toddlers, and pre-schoolers. (ages 6 weeks-12 years). Extended hours are available. Police/Fire/Military discounts. Contact Miss Danielle for more information.

ROCKLAND JEWISH ACADEMY
450 W. Nyack Road, West Nyack
845-627-0010
Contact: Judy Klein, x104

Rockland Jewish Academy is a community Jewish day school: independent, inclusive, and welcoming to families in all streams of Judaism. RJA provides Rockland, Orange, Putnam, and Bergen County children, early childhood (ages 3 and 4) through 5th grade, an enriched education, integrating academic excellence with Judaic literacy and second language acquisition, and promoting a strong Jewish identity in a safe and nurturing setting. RJA children thrive in our stimulating learning environment that celebrates each of their talents and gifts, with the differentiation and personal attention that encourages their social, emotional, and spiritual growth.

ROCKLAND SOCCER ACADEMY
Various locations throughout Rockland,
844-PLAY RSA (844-752-9772)

Rockland Soccer Academy is on the soccer fields in Rockland County! Led by New City's own, Coach Mike Girling, Rockland Soccer Academy is a fundamental, skill-based soccer program for boys and girls of all ages. Developed for, and based in, Rockland County, RSA's programs are focused on both soccer and personal development, while providing our players with a fun, safe, and athletically enriching atmosphere.

SADDLE RIVER DAY SCHOOL
147 Chestnut Ridge Road, Saddle River
201-327-4050

Founded in 1957, Saddle River Day School is an NAIS/NJAIS-accredited, co-ed, college-prep day school enrolling approximately 325 students in grades K-12. A 7:1 student-to-teacher ratio provides personalized attention for every student in a challenging academic environment. The school embraces core values of responsibility, honesty, compassion, and respect. The beautiful 26-acre campus offers two gyms, two media/library centers, technology lab, performing arts center and three fully equipped art/graphic art studios. Recent graduates are attending Boston College, Brown, Bucknell, Colgate, Cornell, Columbia, Georgetown, Harvard, Tufts and U Penn.

SHELLY'S PLAYHOUSE
54 Parkway Drive N., Blauvelt
845-398-2324
Email [email protected]

Currently enrolling for before- and after-school care for children ages 5-13. We are a private, licensed, and insured program that has been in business in Blauvelt for 18 years. Open 7am-6:30pm. Buses will drop off from school. We have a quiet room with two computers for homework and qualified staff who are always available to assist; indoor and outdoor fenced-in play space; plenty of science projects, board games, video games, and sports equipment. Some spots are still open. Ask for Michelle for more information. We also offer holiday and summer camp options.

SMARTY PANTS LEARNING CENTER
484 New Hempstead Road, New City
845-678-3809

Smarty Pants Early Learning Program is an early nursery program for children ages 2.5-5. We encourage a fun, nurturing learning environment with an emphasis on thematic studies, which are aligned with New York State Common Core. With our certified teachers, your child will enjoy actively learning while they develop as a whole child. Our program also offers arts, yoga, and music with Ms. Becky, which allows students to showcase their learning experiences through shows and plays throughout the year. Call regarding available spots for summer and fall.

ST. CATHARINE EARLY CHILDHOOD CENTER
517 Western Highway, Blauvelt
845-359-4330
Email [email protected]

Our program provides an opportunity for young children to join together in a loving, nurturing, educational, fun environment. Each child is introduced to a full curriculum of early learning in a center-base setting. Hands-on activities and participation in all areas provide the perfect setting for young children to develop and grow. Each child is recognized as a unique individual with many special talents and abilities. Phonemic awareness skills, social, cognitive, fine, and gross motor skills are introduced through a creative curriculum. A wonderful place for pre-schoolers to learn, grow, and have fun!

THE SUNSHINE GALLERY CHILDREN'S STORE
212 Market St. (Nanuet Mall South), Nanuet
845-290-7166
Email [email protected]

Located behind the Nanuet Mall South (next to Tumble-Bee Gymnastics and Fitness) we are Rockland County's newest and most unique consignment store, featuring new and gently used children's clothes, toys, books, games, strollers, and more. And, we carry maternity clothes. Fifty percent off everything, every day! Children's art is on display throughout the shop, and we will be offering art workshops throughout the year, all taught by a New York state-certified art teacher. Call about classes, merchandise, birthday parties, private lessons, and more.

TEMPLE BETH TORAH HEBREW SCHOOL
330 N. Highland Ave., (Route 9W), Upper Nyack
845-358-2248 x107

At Temple Beth Torah, our goal is to provide outstanding Reform Jewish education and to work with families to ensure a lasting love of Judaism. Our religious school offers interactive programs for students in grades 1-12 that include Bar/Bat Mitzvah, confirmation, and post-confirmation studies. We offer religious nursery and Kindergarten programs for ages 3-5, and a monthly Tot Shabbat program. Our children are encouraged to become involved in our three active youth groups. TBT is an inclusive community that embraces families of diversity. For more information, contact our educator, Mara Lewin.

TENDER LOVING CARE DAYCARE
40 Park Ave., Suffern
845-357-5454

We offer a school setting and family-oriented atmosphere with programs and flexibility to fit your needs for children ages infant-12 years, including FREE Universal Pre-K and a before- and after-school program with Ramapo central bus transportation. We are open most school holidays, and during school vacations from 7am-6:30pm. Located near the Suffern train station and free parking, we offer small class sizes and a fenced-in playground. We've been in business for 26 years. Our goal is to provide a warm, healthy environment, and to be your child's home away from home.

THE NURSERY SCHOOL AT TBS - TEMPLE BETH SHOLOM
228 New Hempstead Road, New City
845-638-0830
Lori Scott, nursery school director
Email [email protected]

The Nursery School at TBS has been known in Rockland County for more than 30 years as a warm, nurturing, enriching educational environment. Combining Jewish values through our "Mensch" program and weekly classes with our Rabbi and Cantor with a program that works to build the whole child, we prepare our children for the academic, social, and spiritual life beyond the pre-school years. Kindergarten teachers report they always know TBS children because they're so ready to learn when they enter Kindergarten. Please come visit us! See our nursery school slideshow at tbsrockland.org.

THOMAS CLIFFORD'S MARTIAL ARTS
3 N. Main St., Pear River
845-365-6461
Email [email protected]

Children are precious. As a parent, you know it is your responsibility to protect your child from all sorts of dangerous situations. It isn't easy. They grow up fast. Time flies, and eventually children must learn to defend themselves. You certainly do not want your son or daughter to be bullied, or to become a bully. Martial Arts lessons are a fantastic solution. Every kid should learn self-defense. It's like learning to swim—it's lots of fun, it can save your life, and it builds self-control and self-confidence. Thomas Clifford's Martial Arts has a program that is perfect for your child.

TUMBLE - BEE GYMNASTICS AND FITNESS
401 Market St., Nanuet Mall South, Nanuet
845-623-2553

Tumble-Bee Gymnastics, serving Rockland County for more than 25 years, offers programs for boys and girls, ages 10 months to 12 years. Our preschool program offers exciting weekly lessons and theme weeks. We are the only gym in Rockland County licensed to teach the nationally recognized Fun & Fit Gymnastics after-school program for children entering kindergarten through sixth grade. Our warm and well-trained staff will teach your children the skills that give them the confidence and self-esteem they need to achieve success in the future. Register early! Classes close out quickly.

VICKI'S DANCE STUDIO
61 Maple Ave., New City
845-634-2202
Email [email protected]

For more than 30 years, we have been inspiring and motivating students to follow their dreams, both in dance and in their lives. We offer beginner to advanced classes for boys and girls ages 2½-adult, including jazz, tap, hip-hop, ballet, pointe, lyrical, modern, creative movement, boys' hip-hop, gymnastics, and combination classes. We also offer the ONLY full musical theatre program that will not fill up your child's busy schedule. This program will give your child an amazing theatre experience with two stage performances. For experienced dancers, we offer a competitive dance team (try-outs required).

ILENE WEISS
845-267-6720
Email [email protected]

Ilene Weiss was a chairperson of the Committee of Special Education, and is a NYS-certified teacher with more than 30 years of experience working with children with disabilities. Ilene consults and advocates for parents of children with special needs, and tutors children who are struggling in reading and literacy using a multi-sensory approach. Ilene works with Fletcher's Place Reading Program to improve reading instruction and help struggling readers. Ilene has completed teacher trainings in NYC, Newark, NJ, and Miami, FL.

YOUNG WORLD DAY SCHOOL
585 Wyckoff Ave., Mahwah
201-327-3888

Young World Day School provides a safe, nurturing environment where ordinary kids do extraordinary things. An experienced staff utilizes an interdisciplinary approach to learning using individualized instruction, cooperative learning, and small group instruction. The school includes a transitional/traditional pre-school beginning with a two-year-old program, a Montessori school for ages 2.9-5, and a transitional or traditional Kindergarten, all with low pupil to teacher ratios. The primary school for grades 1-5 is comprised of small, mixed-age classrooms providing individualized instruction so students learn at a rate appropriate to their ability. Morning and afternoon extended care available.