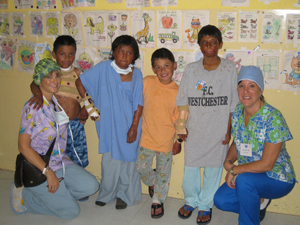 10 Days of Help
Volunteers from Rockland County bring medical care to underprivileged children in Ecuador
Several area medical professionals traveled to Ecuador this past October in a volunteer effort to bring relief to some of the country's medically needy children. The 10-day trip was sponsored by Healing the Children, an international nonprofit organization dedicated to bringing medical care to underprivileged children around the world.
The team of about 30 doctors-including surgeons, anesthesiologists, physical and occupational therapists, and other specialists-treated children with afflictions such as cleft palate and/or lip, severe burn deformities, and congenital anomalies like severe hand or extremity deformities, who would otherwise be unable to receive surgical care.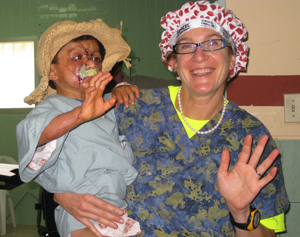 Among the volunteers were Lori Lucchi-Caponigro, OTR/L, occupational therapist and co-owner of Hand Therapy of Rockland in New City; and Laura Sudarsky, MD, a plastic surgeon who practices in Nyack. Both are veterans of the organization who have participated in past trips. Joining them was Jean Satawa, OTR/L, occupational therapist at Bone and Joint Associates in White Plains.
The volunteers carried their own equipment and supplies, says Lucchi-Caponigro, along with items for the children, such as stuffed animals, coloring books, and clean clothes. "The kids come and they have nothing except what they're wearing on their backs," she says. "We have limits to what we can bring, but we do the best we can to bring as much as we can."
Lucchi-Caponigro, who has traveled overseas with Healing the Children about 11 times in the past 11 years, organized the trip and served as head administrator. She also served as head therapist and used her medical expertise to aid children in their recovery process after surgery, teaching parents how to care for them after the volunteers left as well.
"A few times we've gone back to the same place and have been able to see patients we've operated on [in the past]," she says. "They come back to show us how well their child is doing. It's truly an amazing experience."
To learn more about Healing the Children, visit www.healingthechildren.org. For more information on Lori Lucchi-Caponigro and Hand Therapy of Rockland, visit www.handtherapyofrockland.com.